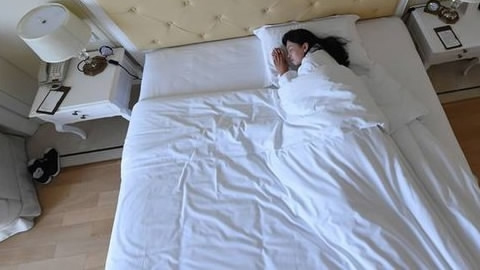 (Photo/CGTN)
The booming Chinese tourism market has given birth to an increasing number of professional sleep testers, with the number currently estimated at about 500, according to a Monday report.
The Yangtze Evening Post said that in total, there are around 5,000 part-time sleep testers, and a tenth of that number does the job full time.
It is believed that the first group of sleep testers emerged in 2009 when several travel websites started recruiting reviewers to write reviews on their hotel experience. But professional sleep testers didn't appear until last year.
Though dubbed "the world's most comfortable job" by Chinese netizens, it is actually not as easy as some may think as it requires an exhausting travel schedule.
"I would sleep at almost a hundred starred or specialty hotels each year. I have been on the road all the time," said 32-year-old Qu Shasha, a pro sleeper employed by over 100 hotels in more than 20 countries across the world.
"I'll check in at a proper time for good light. It's easier to shoot photos… Then I make a close observation of the facilities in the cloakroom, bathroom, bedroom. The most important thing is that the room must be soundproof so that people can sleep well," she added.
The pay for such work can be high. Testers are paid by the travel sites to which they contribute; social media platforms pay depending on the number of shares of a review. If Qu works in product placement including branded cameras, cellphones and jewelry, she gets advertising fees. Given her fame, a large part of her income is from regional tourist bureaus who invite her to try out their hotel services.
"My present income is almost double that of my previous manager job at a Fortune 500 company," Qu told the newspaper.