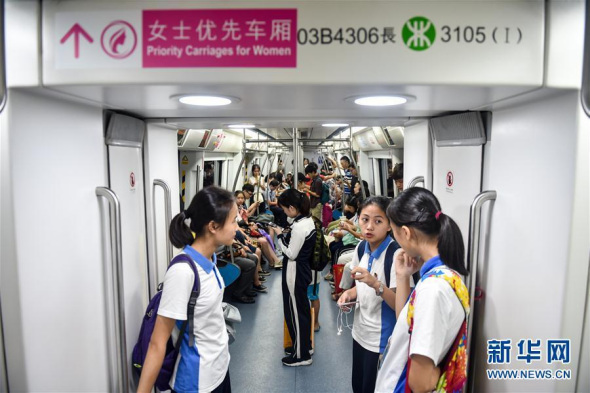 Shenzhen Metro Group launched "ladies first" subway cars on Monday, with the aim of providing a better traveling experience for female passengers and advocating care for women. (Photo/Xinhua)
Shenzhen metro authorities recently introduced 'women priority' carriages, the first trial in China. But to the embarrassment of many, there were more men than women in the carriages.
According to the Shenzhen metro staff, the first and last carriages of the current lines 1, 3, 4, and 5 are designated as 'women priority' carriages. Slightly different from the ordinary ones, the platform shield doors outside these carriages carry pink logos.
Within a week after the start of the operation, the 'women priority' carriages were crammed with large numbers of male passengers.
The pink logos are usually blocked in the rush hour as passengers pour in, and there are no other notices or reminders in the station.
Challenge from the public
Prior to the introduction of 'women priority' carriages, the reports said such carriages could effectively reduce sexual harassment on the subway. According to the report, "opinion polls show that 81.9 percent of people think there is sexual harassment on the subway, and 21.6 percent think that sexual harassment frequently occurs. Collisions between passengers are unavoidable, which make passengers feel awkward."
But this argument soon sparked controversy. Some internet users pointed out that the fundamental solution to sexual harassment is to strengthen punitive measures, instead of isolating women. There are worries that setting up 'women priority' carriages will affect the overall delivery efficiency of the subway.