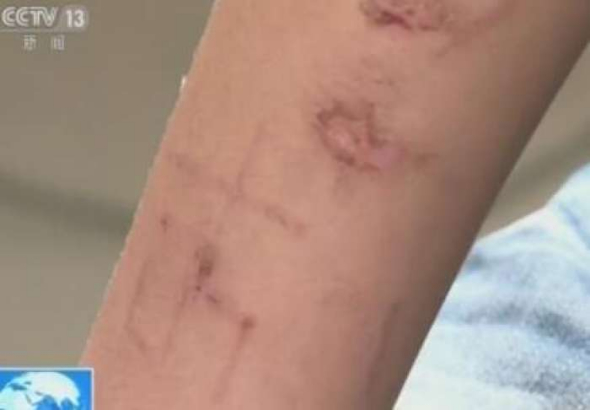 19-year-old Xiao Yao (alias), carved letters into his limbs and planned to end his life for the sake of the game Blue Whale. (Screenshot of CCTV program)
Police in Jiangsu province recently foiled at the last minute suicide attempt by a young man addicted to the online game Blue Whale, as police nationwide step up efforts to track the fast-spreading online game, which many consider a cult that specifically targets young people.
The appalling case of 19-year-old Xiao Yao (alias), who went so far as to carve letters into his limbs and planned to end his life for the sake of the game, is just one would-be victim of the Russian game, which has incited more than 100 suicide attempts in the U.K., U.S., Argentina, Mexico, China and other countries.
Chinese authorities have taken comprehensive measures to counter the game's spread. Police have extended their surveillance of social media, monitoring any mention of the game on live-streaming sites and message boards. Tencent, China's largest internet service portal, recently closed a cascade of suspicious network groups focused on the game. Parents are being urged to stay alert when it comes to their children's internet surfing habits.
The game demands that players complete 50 tasks in 50 days, including cutting one's veins with a razor, repeatedly stabbing one's hand with a needle, watch horror movies at 4:20 a.m., remaining silent all day and accepting the date of one's death. The final demand is for players to commit suicide.
The game is spread primarily via Tencent QQ network groups, where a monitor oversees each player's daily missions. The monitor also collects players' personal information, so anyone planning to drop out faces the threat of personal information leaks.
After his parents divorced and he became socially isolated, Xiao Yao spent most of his time online or entirely alone. The game worsened his depression and encouraged his instincts to self-harm, though he joined the game only "out of curiosity" at first.
After receiving the ultimate task, Xiao Yao planned to jump into a river and drown himself, but was ultimately unable to go through with the deed. He then consulted the game monitor to identify another method of suicide for the next day. Fortunately, police were informed of his situation and acted to stop him.
The game has triggered a panic among parents and authorities in China, after apparently leading to several suicides in Russia. Many are worried that since China has the world's largest number of internet users ? more than 700 million -- the danger of someone succumbing to the game's macabre pull is very real.
Zhu Wei from China University of Political Science and Law has attended briefings on the game as a legal consultant.
"I don't think it is a game. It is organized like a cult. It gives adolescents an excuse to do extreme things and show off," he said.
Xu Ruiping, a psychologist, explained that the game's requirements exert considerable influence over the mental state of players. A lack of sufficient sleep for a prolonged period of time can lead to anxiety, depression and even insanity; teenagers can gradually lose their cognitive capacities and ability to make sensible decisions.
As for why the most vulnerable group is teenagers, Xu noted that the game makes use of teenagers' often unstable psychology, preying on their tendency to be suggestible and desire to fit in with their peers.