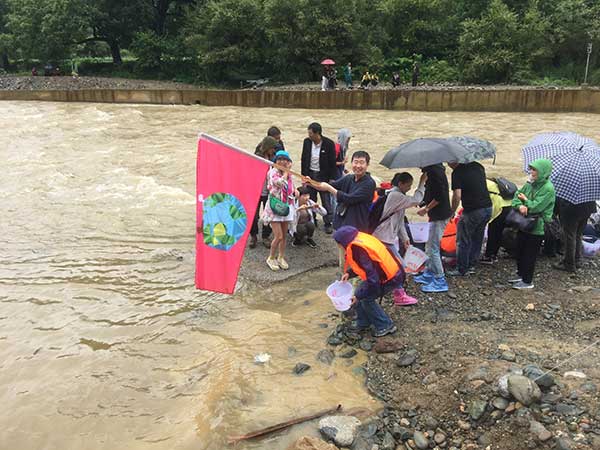 Volunteers pour fish larvae into Jinsha River in Southwest China's Yunnan province, July, 11, 2016.(Photo provided to chinadaily.com.cn)
More than 7,700 fish larvae were released into the Jinsha River in Southwest China's Yunnan province on July 11. They included local species such as loach, schizothorax wangchiachii and naked carp and are expected to reproduce, stabilizing the fish population.
More than 800 volunteers helped release the larvae, including villagers, students, and activists from NGOs.
The program was the brainchild of Wang Yikang, a freshman at Syracuse University in the Unites States. He said the Jinsha River used to have more than 140 species of fish living in it, which have been reduced to 13 due to overfishing.
"I hope this activity will help local villagers realize the importance of a balanced ecosystem. If the fish are allowed to reproduce, it could mean a stable and sustainable source of income for the fishermen every year," said Wang.
This is only the first step in Wang's "five-year-plan" to restore the ecosystem of the Yangtze River, of which the Jinsha River forms a part. He came up with the idea while studying in the U.S. and with academic and financial support from organizations such as the China Biodiversity Conservation and Green Development Foundation and SEE Conservation, raised nearly 200,000 yuan ($30,100) to purchase the fish larvae.
In July, after a year of preparation, Wang began working on the project with Canadian junior student Jacqueline Wang.
Next year, they will release Yangtze sturgeon and coreius guichenoti larvae into the Jinsha River's lower reaches in Sichuan province and in 2018, Chinese sturgeon will be released in Yichang, Hubei province.
In 2019, more fish larvae are due to be released in the Jinzhou section of the Yangtze River, while in 2020, Chinese puffer fish larvae will be released.
"I hope more attention will be paid by government agencies and scientific institutions to this protection project in the future," said Wang.