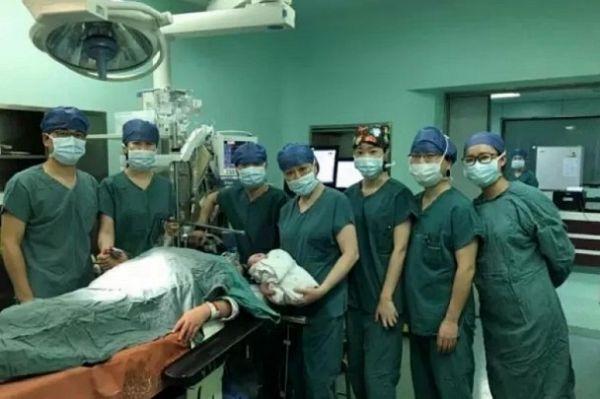 The medic team successfully help the 61-year-old deliver a baby boy in Hangzhou. (Photo from web)
Obstetrics experts are urging women who want to become mothers again at an advanced age to think twice, after news of a 61-year-old woman giving birth went viral online this week.
The mother, surnamed Zhang, gave birth to a boy through a C-section at a hospital in Hangzhou, Zhejiang province, on June 27, two years after her 30-year-old daughter, her only child at the time, died of illness.
She was discharged from the Women's Hospital Affiliated With the School of Medicine of Zhejiang University on Tuesday, and both mother and son were in good condition, said Sun Meiyan, a hospital spokeswoman.
The hospital said Zhang endured hardships during pregnancy. She suffered bleeding twice as well as pregnancy-induced hypertension syndrome, and she fought her way through after-delivery difficulties including anesthesia problems, bleeding and unstable blood pressure.
The hospital was hesitant to publicize that Zhang broke a provincial record for oldest new mother because it did not want to encourage women to give birth at or around retirement age, Sun said.
"The quality and quantity of eggs of women 35 or older have declined, so they will face a lower success rate of pregnancy and higher risks of miscarriage and birth defects," said Zhu Yimin, director of the hospital's reproductive and endocrine department.
Additionally, Zhu said, "During the prime time of the child's development, the parents are in their 70s. How can they spare efforts to accompany their children?"
Zhang became the province's oldest mother with the help of in-vitro fertilization, and is believed to be the country's second-oldest mother. A 62-year-old woman in Zibo, Shandong province, gave birth to a boy in May last year and is believed to have been the oldest known pregnant woman in China, according to media reports.
Women who give birth at an advanced age have made headlines in recent years. Many of them seek a chance to rebuild their family after losing their only child.
Just six days before Zhang's delivery, Liu Hongmei, 54, of Xiangyang, Hubei province, gave birth to a boy who was conceived through in vitro fertilization. She lost her first son in a traffic accident two years ago.
According to the National Health and Family Planning Commission, there are an estimated 1 million families nationwide in which the parents have lost their only child, a number that is increasing by about 76,000 a year. By the end of 2012, there were 355,000 such families in which the mother was age 49 or above.
Sun, the women's hospital spokeswoman, said the hospital's second-child counseling clinic has been popular this year, particularly among those in their 40s or older.
"The majority of women anxious to conceive in advanced age are those who have lost their only child," Sun said.