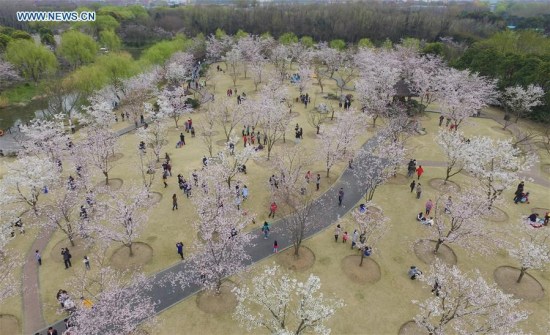 People enjoy the beauty of cherry blossom in Gucun Park of east China's Shanghai Municipality, March 20, 2016. Currently there is a cherry blossom festival going on in Gucun Park. (Xinhua/Pei Xin)
Flowers are not the only signs of life that come with the spring thaw. Warmer weather has brought blossoming tourism to China as well.
Last week, the Beijing municipal government released a list of 192 spots in the city for citizens to enjoy the spring flowers, including peach blossoms, magnolias, apricot flowers, winter jasmine and a dozen others that bloom from March to May.
The recommended spots cover an area of 22 million square meters, according to the city's gardening and urban greening department. Nearly 100 cultural events such as folklore performances and botany exhibitions will be held during the period.
The tourism department of central China's Hubei Province has also picked 20 travel routes for tourists looking to appreciate floral beauty in the countryside.
The routes range from convenient spots in the suburbs to astonishing views in remote mountains, said Zhou Zhengsu, deputy director of the provincial tourism department.
High-speed "flower express" trains have started running in northwestern China's Xinjiang Uygur Autonomous Region to help tourists on their spring outings.
Nearly 2,000 people took the express train to enjoy the apricot flowers in Turpan last weekend, while others traveled to the Xinjiang city by inter-city bus or car.
"We have mobilized departments to serve incoming tourists and make sure they have a pleasant stay in Turpan," said Chen Shuguo, head of the local tourism department.
A travel agency in the eastern city of Wuxi told Xinhua that high-speed trains to scenic spots famous for spring flowers have become a hit in recent weeks. Tour packages offer journeys spanning from three to five days at prices ranging from 1,000 to 2,000 yuan (150 - 300 U.S. dollars).
The upcoming Tomb-sweeping Day holiday, which will be observed from April 2 to 4 this year, will be prime time for plant-loving tourists to catch rapeseed flowers in bloom, said Zhang Liang, manager of the travel agency.
Farmers in Wuyuan, a county in east China's Jiangxi famed for its sea of rapeseed flowers growing in terraced fields, will welcome tourists into guest houses and restaurants, which have become their main source of income.
In neighboring Hunan Province, millions have been invested in planting rapeseed flowers at a local scenic spot in Zhangjiajie City. Foreign and domestic tourists, photographers and couples shooting wedding photos have swarmed the spot this month.
According to the provincial government, roughly 400,000 tourists made "flower trips" in the first quarter of the year, generating revenue of more than 100 million yuan.
A 53-hectare cherry blossom park will open in southwest China's Meishan City in Sichuan Province. The park will feature six km of river bank planted with cherry trees. Tens of thousands of flowering cherry trees of more than 20 varieties will be planted in the park over the next two years.
Peonies have a rich history and tradition in China. A month-long festival celebrating the flower will be held starting April 5 in central China's Luoyang, a city that has been growing peonies for more than 1,500 years.
"The iconic blossom, unlike the tulip in the Netherlands or lavender in Provence, is still little known to foreign visitors," said the organizer.
"China's flower tourism has huge potential, but it has to look beyond immediate gains and give due attention to the environment. We have to learn to combine our various flowers with distinctive cultural elements," said Li Tianshu, director of Hua Yuan Travel Company.