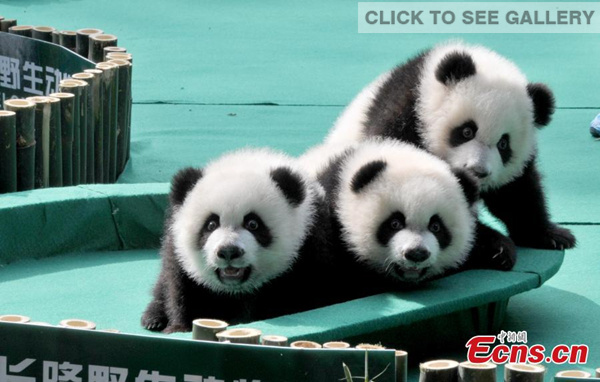 The world's only surviving panda triplets are seen playing in the Chimelong Safari Park in Guangzhou, South China's Guangdong province on December 15, 2014. The trio have been named Kuku (cool), Shuaishuai (handsome), and Mengmeng (cute) after a three-month campaign. [Photo: China News Service/ Liu Weiyong]
China has 394 captive-bred pandas, according to the State Forestry Administration, 32 of which were bred in 2014.
China has been improving panda breeding with a set of triplets born this year, but the group's quality must be improved in 2015.
The triplets were born on July 29 in Guangzhou, capital of south China's Guangdong Province. They are the longest living set of panda triplets in history and the fourth triplets ever recorded. In all previous instances, at least one of the triplets died.