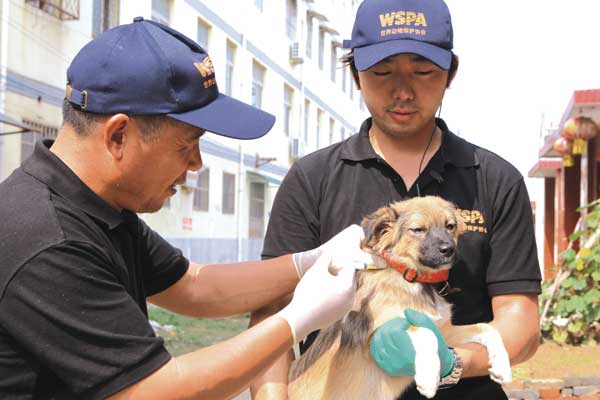 Staff members with the World Society for the Protection of Animals give a rabies vaccination to a dog. [Provided by WSPA to China Daily ]
  The Ministry of Education has included the topic of animal welfare in the curriculums of veterinary medicine courses this school year, reflecting the country's rising concern for animals, an expert said.
  Jia Zili, secretary-general of the Chinese Veterinary Medical Association's Animal Health Service and Welfare Branch, told China Daily that the ministry has included animal welfare as a compulsory course in veterinary education.
  "Animal welfare is still not widely accepted, even among veterinarians, who are probably the closest to animals," said Jia, who has been involved in negotiations over the new policy.
  He said that animal welfare is about more than providing basic care, food and water for the creatures. It also involves taking measures to satisfy the physical and mental needs of animals as well as protecting them from avoidable suffering caused by humans.
  According to a joint survey conducted by Jia's association and the World Society for the Protection of Animals, of 61 universities and colleges that teach veterinary education only 33 include animal welfare education in the courses.
  "And there is no scientific, well-written textbook on the topic," said Sun Quanhui, a science adviser to the international animal welfare society.
  The joint goal of the two organizations is to create a comprehensive animal welfare education system by introducing established international practices.
  The WSPA has many years of experience in animal welfare education around the world. It is used to working with governments, NGOs and educational institutions at different levels in different countries.
  However, Sun said there is great value in working directly with veterinarians to improve animal welfare standards.
  "One way we have found effective in many countries is to work with veterinarians, because vets interact with animals and with people who care for animals on a daily basis," he said.
  "As China is becoming more involved than ever in international affairs, keeping up with the concept of animal welfare will benefit the meat trade and public health," he said.
  "If animals are suffering, in pain, or abused, this will affect their physical state as well. If you better look after the animals, the food is more likely to be safe."
  There is no legislation on the subject of animal welfare. However, a tentative step in that direction came last year when a non-compulsory guideline on the General Principle of Animal Welfare Assessment was submitted to the Ministry of Agriculture. The ministry is still reviewing the guideline, and the inclusion of animal welfare in veterinary courses is thought to be a recent addition.
  "The exact date (of the new curriculum) has not been made known yet," Jia said.