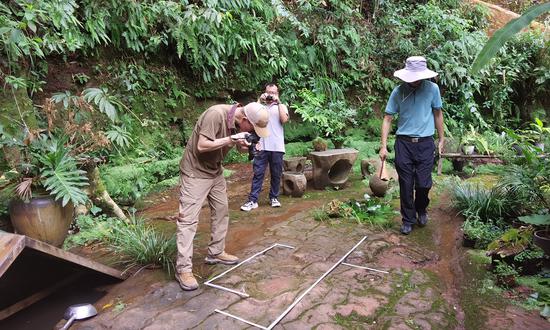 Experts observe and measure the dinosaur tracks discovered at a restaurant in Leshan, Southwest China's Sichuan Province on July 16, 2022. (Photo/Courtesy of Xing Lida)
Fossil footprints of dinosaurs that lived 100 million years ago were discovered for the first time at a restaurant in downtown Leshan, Southwest China's Sichuan Province, providing new information about the paleo-environment and paleoecology of the early Cretaceous period in the area.
Experts confirmed on Saturday that dinosaur tracks consisting of more than 10 fossil footprints were found at a gardening-and-forest-themed restaurant in downtown Leshan, just 5 kilometers away from the location of the city's landmark Giant Buddha, the world's largest stone Buddha statue. The footprints belong to two brontosauruses, a species of large-scale herbivorous dinosaur, from the Cretaceous Jiaguan Formation.
Xing Lida, associate professor from China University of Geosciences in Beijing, and Peng Guangzhao, expert from Zigong Dinosaur Museum in Zigong city, Sichuan, jointly announced the discovery on the two trails of fossil footprints after carrying out careful studies and measuring works including shooting by drone and 3D scanning.
According to Xing, the dinosaur tracks found at the courtyard of the restaurant were discovered by a customer on July 10.
The customer named Ou Hongtao was eating at the restaurant when he noticed something strange about several pits in the courtyard. Ou often deals with stone materials because of his work and he also pays close attention to books and news about paleontology.
After careful observation, he presumed that the pits are probably dinosaur tracks and contacted Xing for further investigation.
The two trails of footprints were left by two sauropod dinosaurs with their body length of about eight meters when they had activities along the riverbanks in the drought environment of ancient Leshan about 100 million years ago, Xing confirmed with the Global Times on Monday.
The significance of the discovery is that it is the first time that dinosaur tracks have been found in Leshan city, which provides new information about the paleo-environment and paleoecology of the early Cretaceous period in the area and lays a solid foundation for finding more dinosaur traces in Leshan area in the future, according to Xing.
Experts predicted that more traces of dinosaurs are expected to be found there and suggested the restaurant should take proper on-site protection measures for the footprints, so that they can be another part of the landscape of Leshan.