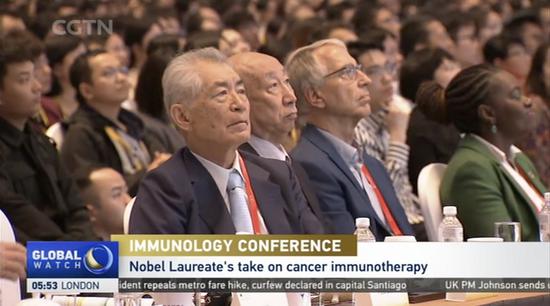 The 17th International Congress of Immunology. (CGTN Photo)
Cancer is the second leading cause of deaths globally, claiming an estimated 9.6 million lives worldwide in 2018, according to the World Health Organization. But in recent years, scientists have found a new method to treat the disease: immunotherapy, which has significantly improved the survival rate for some cancer patients.
Nobel Laureate Professor Tasuku Honjo from Kyoto University expressed his optimism about immunotherapy in a CGTN interview at the 17th International Congress of Immunology in Beijing (or IUIS 2019). He won medicine's top prize in 2018 for his discovery of PD-1 (programmed death receptor-1), a protein that serves as immune checkpoint inhibitors. His findings significantly contributed to the establishment of cancer immunotherapy.
The Japanese immunologist said cancer immunotherapy is revolutionary for a number of reasons. Different from previous treatments, including chemotherapy, immunotherapies can prolong overall survival. In addition, they can recognize the difference between normal cells and cancer cells so as to target cancer cells specifically while causing no damage to the body. For this reason, immunotherapies are less toxic and have much fewer side effects compared with conventional chemotherapy or radiotherapy. The treatment can theoretically be applicable to all types of cancers, and has quite durable effect. That means tumor won't come back even if patients stop treatment.
Currently there are thousands of clinical trials of immunotherapy drugs being conductesd. One target of these trials is to distinguish responder and non-responders to the therapy beforehand so it can not only save money, but also patients' time. It can also help doctors to make an early decision on the best strategy to go on with patients. A major challenge is to improve the efficacy of the treatment through a combination of different methods which may include immune therapy plus chemotherapy or radiation.
Professor Honjo believes most cancers will become treatable with immunotherapy. By improvement or combination with other treatments, it may stop the growth of tumors, even if it cannot eliminate them. "That could be possible at least within this century," he said, "In theory, if the method is improved, many different types of cancers are curable."
In predicting which type of cancer is likely to be the first to be cured. Professor Honjo named Melanoma, a type of skin cancer, which has shown up to 70 percent of responding to immunotherapy. "Hopefully the majority of lung cancer, kidney cancer and some types of lymphoma are also likely to be cured," he said.
IUIS is the highest level gathering of its kind in the field of immunology. It's held every three years and this is the first time that China hosted it.