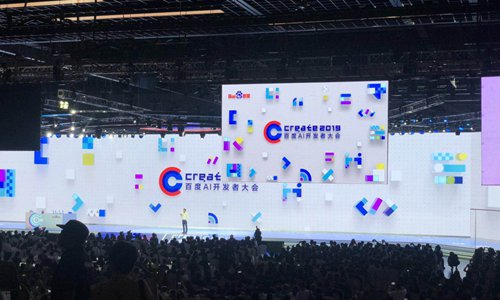 Baidu CEO Robin Li Yanhong speaks at the AI conference in Beijing on Wendesdsay. (Photo: Huang Ge/GT)
China search engine giant Baidu said Wednesday that "cold water" won't change the company's determination to push forward artificial intelligence after its founder Robin Li Yanhong was splashed with water on stage at the Baidu artificial intelligence (AI) conference in Beijing.
During Li's speech at the conference in Beijing while he was sharing updates about the company's driverless vehicle strategy on Wednesday, a man stormed the stage to splash water on Li's face. Li appeared a little bit surprised, asking the man in English "what's the problem?"
It took only a few seconds for Li to wipe water from his face and calm his mood. After returning to his speech, Li responded in a calm manner, saying that "setbacks always lie on the road to advancement for AI, but [our] determination to move forward won't be changed and AI will change everyone's life."
The man who had splashed the water was reportedly being controlled by security guard. It is not clear why he initiated the move.
As Li's speech continued on, the audience then applauded several times to encourage him. "Never give up, Robin!" an audience member shouted.
Several people at the scene told the Global Times that they were impressed by Li's proper handling of the incident and stressed that any resentment toward Baidu should not be escalated into a personal attack of Li. "Li is aiming to do something big. Such a trivial thing won't be able to affect him," an audience member told the Global Times.
"I was shocked and thought maybe Li wanted to show the audience their latest AI-powered dryers after the man splashed the water at him," another audience member surnamed Liu told the Global Times.
Baidu later said "someone has thrown cold water on AI at the conference. There are always all kinds of unexpected things that may occur on the road to AI, but Baidu's determination to move forward on won't be changed."
Baidu has come under fire dozens of times for allegedly selling listings to bidders without adequately checking their claims. In 2016, the company's public image dwindled to its lowest point after a student died after trying a therapy from a hospital he found at the top of the Baidu web search list.
Li's calm reaction has also generated heated discussion on China's social media. As of 13:02, the topic "Li being splashed with water" has been read 210 million times on Weibo.
Some netizens vented their long-time dissatisfaction and anger toward Baidu's bidding advertisement model of search engine service alongside the incident.
"I hope the water could wake Baidu up and stop the wrongdoings of its search engine business," a Weibo user Anpaishuaige said. But others also urged for a rational approach to the incident.
"You have the right to boycott and resent Baidu. But you should never resort to violence. This is too much and distasteful," said a Weibo user guomalu.