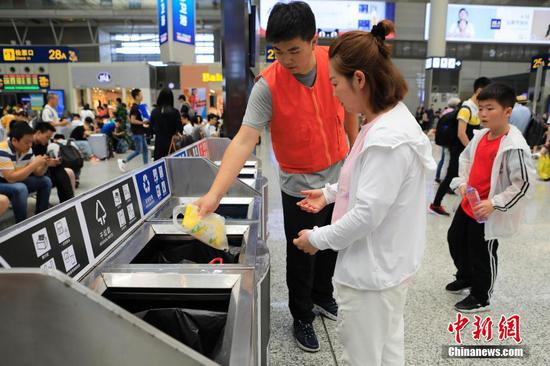 A volunteer helps a woman sort garbage in Shanghai, July, 1, 2019. (Photo/China News Service)
(ECNS) -- Shanghai started mandatory garbage sorting on July 1, spearheading a rise in new jobs and helpful apps as the waste disposal practice is promoted in more cities.
A garbage pick-up service is now available online to residents that brings workers to remove waste material within 30 minutes.
China's top mobile payment platform Alipay also allows users to get rid of household waste in a manner that's as easy as requesting a courier to deliver a parcel.
Tan Weiwei, who is responsible for the waste recycling unit of Alipay, said newspapers, plastic bottles, large appliances, and broken glass are among waste items that can be collected from homes free of charge.
Alipay's recycling unit works with more than 70 service providers and links with waste recycling platforms in 15 cities, covering about 40,000 residential communities.
The Beijing Youth Daily reported that people working in the sector are mainly those who already work full-time in garbage sorting, along with others who moonlight in their free time.
In addition, there are multiple apps and programs available on WeChat aimed at helping to facilitate garbage sorting.
Some of the apps focus on helping users correctly sort garbage by inputting a keyword or by taking a photo of the items to be processed. Others include games that test the user's familiarity with garbage sorting. One app claimed to have information on more than 4,000 types of garbage.