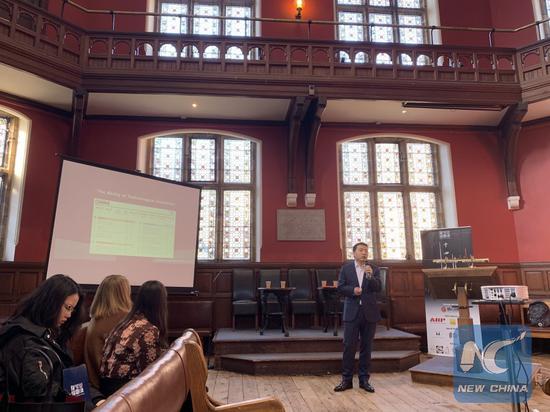 Li Dahai, chief technology officer of Zhihu, is giving a speech at the Oxford China Forum. (Photo credit: OCF)
\Artificial Intelligence (AI) could be the most effective way to deal with the challenge of information overload, the chief technology officer of a leading Chinese Quora-like knowledge sharing platform said Sunday.
Li Dahai told Xinhua on the sidelines of the Oxford China Forum that he believes information overload makes the real valuable information a rarity.
"For us, the technological innovation and application of the AI algorithms are the key weapon against the information overload," said Li, also a partner of Zhihu.
Zhihu, meaning "Do you know" in classical Chinese, is China's most popular question-and-answer website where all kinds of questions are created, answered, edited and organized by the community of its users. Launched in 2011, the number of its registered users has exceeded 200 million. Altogether over 30 million questions have been raised on the platform, according to the company.
"We are helping our users to get more valuable information with the help of personalized recommendation and searching services," Li said. "We are also accelerating the generation of quality contents."
Speaking of China's technology development, Li said according to Zhihu users' opinions, his country, which has already witnessed unprecedented technological outbreaks, still has a long way ahead before becoming a technologically strong country.
"Although we are leading in terms of the digital technology and mobile payment services, we are still lagged behind in areas such as technological innovation ability and fundamental science research compared with Europe and the United States," he said.
The Oxford China Forum is a student-run annual conference that aims to provide insights into the shifting economic, political and cultural landscapes in China.
Founded in 2013, the forum strives to continue building a bridge of understanding between China and the world by bringing together world-leading experts and a diverse audience.