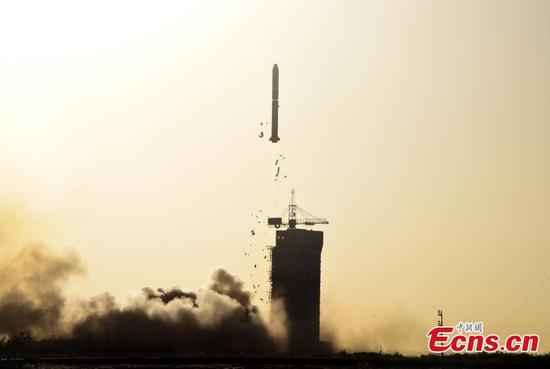 A Long March 2C rocket carrying a joint Chinese and French oceanography satellite blasts off from the Jiuquan Satellite Launch Centre in northwest China's Gobi Desert, Oct. 29, 2018. (Photo: China News Service/Sun Zifa)
The China-France Oceanography Satellite, or known as the CFOSat, has obtained more than 400 pieces of marine environmental data in its first batch of data transmissions, a month after it took off from China's Gobi Desert.
The data includes the distribution and moves of cyclones, location and intensity of typhoons, which helps researchers forecast the weather more accurately, Science and Technology Daily reported on Thursday, quoting the Ministry of Natural Resources.
Liu Jianqiang, the project's chief scientist, who is also a deputy director-general of the Ocean Satellite Center of Ministry of Natural Resources, told the Global Times on Thursday that the satellite, still in the test phase, is expected to operate after three months.
Marine data received by the satellite will improve the accuracy of weather forecasts for China and France and boost international cooperation in this field, Liu noted.
The satellite has obtained data of Typhoon Man-yi, including its features, location, movement and speed.
It started transmitting data via the microwave scatterometer and spectrometer since November 2 and 3, the report said.
The satellite, atop a Long March-2C carrier rocket, took off on October 29 from the Jiuquan Satellite Launch Center in Northwest China's Gobi Desert and entered a sun-synchronous orbit 520 kilometers above Earth, the Xinhua News Agency said.
Developed by the China National Space Administration and the Centre National d'Etudes Spatiales, France's space agency, the satellite can conduct 24-hour observations of global wave spectrums, effective wave height and ocean surface wind fields.
With the two innovative radar instruments - the scatterometer was developed by China to measure the strength and direction of wind and a wave spectrometer developed by France to survey the length, height and direction of waves - the satellite can help scientists collect data about wind and waves at the same location for the first time.
China previously launched six oceanic satellites, with the first officially approved for development in 1997. Two other satellites, the HY-1C and the HY-2B, were also sent into space this year ahead of the CFOSat.