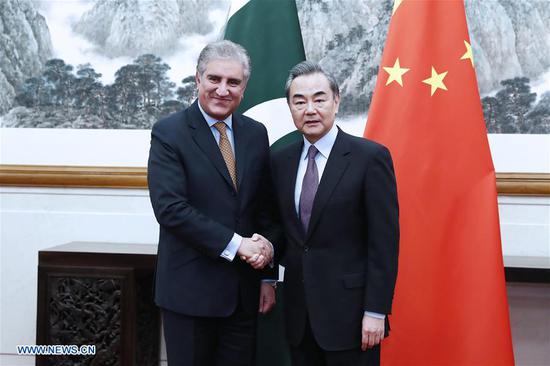 Chinese State Councilor and Foreign Minister Wang Yi (R) and Pakistani Foreign Minister Shah Mahmood Qureshi co-chair the first strategic dialogue between foreign ministers of China and Pakistan in Beijing, capital of China, March 19, 2019. (Xinhua/Liu Bin)
Anti-terrorism and economic collaboration topped the agenda of the first China-Pakistan strategic dialogue between foreign ministers in Beijing on Tuesday. It comes as the Pakistani foreign minister Shah Mahmood Qureshi is on a three-day visit to China.
Countering the rising terrorism and extremism is now a common challenge around the world. And that has become one of the keywords when Chinese Foreign Minister Wang Yi and his Pakistani counterpart Shah Mahmood Qureshi sat down in Beijing. When meeting with the press, both sides said they have reached the consensus to tackle the issue.
"We've agreed on the counter-terrorism cooperation and we praise the strong ongoing efforts Pakistan has made on that. So, we call on the international community to realize Pakistan's efforts in this issue. And we also welcome Pakistan's constructive role in de-escalating the recent India-Pakistan tension and hope the two sides could keep their self-restraint and solve their disputes through dialogue," Chinese foreign minister said.
"So we've made considerable progress against terrorism, and we've paid huge price. But we are determined to deal with this matter effectively and we are determined to cooperate with the international community on the issue," Pakistani foreign minister added.
This is the two ministers' second one-on-one meeting since September when Wang visited Pakistan. At that time, both sides agreed to form a joint mechanism to address common concerns including anti-terrorism and poverty reduction.
Among their all-weather partnership, China-Pakistan Economic Corridor (CPEC) is seen as a flagship infrastructure project for the two neighbors' economic collaboration since 2013. But doubts exist as some people are questioning whether it's a debt trap or it could actually benefit the people. "First, China-Pakistan Economic Corridor is not limited to just certain areas, but the whole Pakistan. We would like to expand these infrastructure projects more broadly to the western region to benefit more people; Second, international financing is a global common practice... and among projects in the China-Pakistan economic corridor, more than 80 percent are from Chinese direct investment or free aids; the loans are limited. Meanwhile, China welcomes other countries who are willing to contribute in the corridor's projects to join our cooperation," Wang told reporters.
The two ministers have also agreed to strengthen the three-party dialogue mechanism for China, Pakistan and Afghanistan, to push forward the regional peace process.