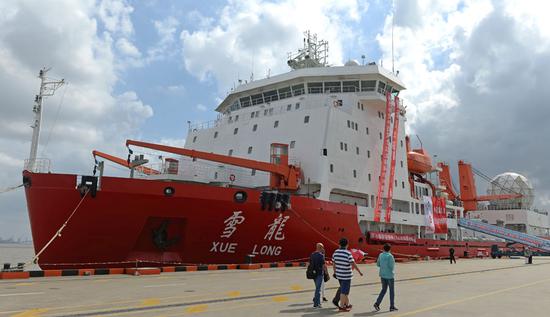 The Chinese icebreaker Xuelong, or Snow Dragon, rests in Shanghai on Wednesday. (Photo by Lai Xinlin/For China Daily)
Scientists report on studies of ocean changes
Two unmanned ice stations have been set up to extend China's ability to observe the northern seas, scientists from the Chinese icebreaker Xuelong said as they wrapped up their most recent expedition.
The domestically developed systems will monitor the interaction of gases, ice and the ocean in the Arctic region. The project will contribute to studies of the Arctic ecosystem and marine environment, scientists said at a media briefing on Wednesday after the return of Xuelong (Snow Dragon).
Other devices, including different types of buoys, were also installed during the 69-day expedition to collect data - including seawater temperature, salinity and drift trajectory - to eventually assist in the construction of the international Arctic environmental observation network, to improve the accuracy of weather forecasting and provide a more reliable basis for preventing climate disasters, said Chen Hongxia, assistant to the chief scientist of the 131-member team.
Measuring ocean acidification and the spread of microplastics were the other major objectives of the expedition of 23,150 kilometers, following on studies from last year.
Ocean acidification is internationally acknowledged as worsening in the Arctic, mainly as a result of rising carbon dioxide emissions. Also, microplastics may trigger environmental disasters, such as the bleaching of coral reefs and negative effects on marine biodiversity, researchers said.
"After carbon from emissions are absorbed, the seawater will be acidified and changes will happen to the local ecological community," said Chen, adding that more than 3,000 bottles of water - samples from the surface to the sea floor - were collected for lab tests.
Scientists also collected samples to test for microplastics in various marine locations, including surface seawater, sediment and marine organisms.
"Lab tests will be carried out soon and will contribute to our understanding of the potential hazards of microplastics to ecosystems in the Arctic seas," Chen said.
Isotope techniques will be resorted to for the first time to study how microplastics transfer works in the ecological system and the food chain, he said.
Massive algal aggregates were discovered by the expedition, said Yang Huigen, director of the Polar Research Institute of China.
Chen added: "It means that fertility in high-altitude areas is higher than we expected and probably indicates that the activity level of creatures such as shrimp, mollusks and fish, which eat algae, is higher than we imagined."
Altogether, 124 sounding balloons, which reach an altitude of 31,000 meters on average, were released during the expedition to explore the upper atmosphere, the researchers said.
Data obtained - including temperature, humidity, air pressure, cloud height, visibility, wind direction and wind speed - were sent to the World Meteorological Organization in real time and shared globally to improve the accuracy of weather forecasting in the Arctic.