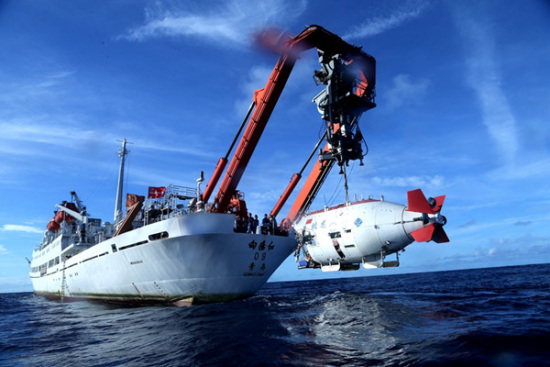 Jiaolong, China's manned submersible, is lowered for a dive on June 20, 2017. (Photo/Xinhua)
(ECNS) - Construction of the Shenhai No.1 (Deep Sea No. 1), the exclusive carrying vessel of China's first manned deep-sea submersible vessel "Jiaolong", began in Wuhan, capital of Central China's Hubei province, on Saturday, Guangming Daily reported.
Sun Shuxian, deputy director of the State Oceanic Administration, said at the opening ceremony that the building of Shenhai No.1 would allow the full play of the technical functions of Jiaolong, and improve the country's deep-sea research and investigation abilities.
Jiaolong, in service since 2010, can dive to depths of more than seven kilometers. The Xiangyanghong-9 transported Jiaolong almost half a world away from China to a remote area of the southwestern Indian Ocean from late 2014 to early 2015.
In 2015, the National Development and Reform Commission approved a plan to build the new carrying boat for Jiaolong, enabling it to dive more often and more efficiently, according to Liu Baohua, the Party secretary of the National Deep-Sea Base Management Center.
Shenhai No.1, to be constructed by Wuchang Shipbuilding Industry Group Co, would be 90.2 meters long and 16.8 meters wide. Its cruising ability would be more than 14,000 sea miles. Shenhai No.1 will also be outfitted to carry out maintenance on Jiaolong.
Work on the vessel is scheduled for completion by the end of August 2018, according to plans, and the vessel would be in service in March 2019, after water trials, the report said.