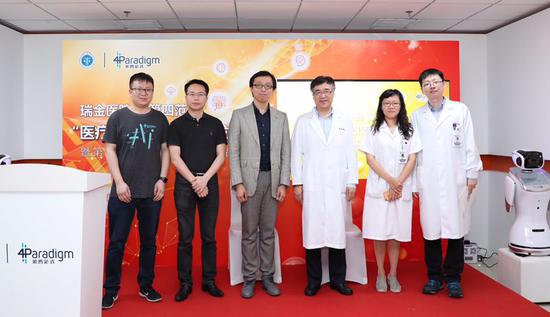 (Photo/China Daily)
The company founded four years ago has been dubbed by investors the Chinese answer to the U.S. big data firm Palantir. And the newly launched tool is the first-ever shot of the company in medical application of AI, according to its CEO Dai Wenyuan.
The product named "Ruining Zhitang" was co-developed by 4Paradigm and Shanghai National Clinical Research Center for Endocrine and Metabolic Diseases at Shanghai Ruijin Hospital.
Ning Guang, chairman of the center and an academician at the Chinese Academy of Engineering, said the AI-empowered tool was developed based on long term mass data from two independent cohorts.
One of cohort by the hospital involves 250,000 people throughout the country and the data got collected over nearly four years, Ning specified.
"So people living in different parts of the vast country and holding varied lifestyles and diet habits are well represented in the data pool to secure the accuracy of the assessment," he said.
By inputting user information such as gender, age, weight, height, education background, smoking and drinking habits, one can be assessed by the tool which can be accessed via Wechat account of the center for his or her diabetes risk in three years.
"It's easy to use and can help people better understand their health condition in a real-time manner," said Ning.
As known to all, diabetes is largely a lifestyle chronic disease which can be well prevented and reversed at early stage via awareness and behavior change.
For instance, one can substantially reduce the risk of developing diabetes by losing 15kg of the body weight and that can be clearly demonstrated by the tool, according to Ning.
"That helps with more targeted self health management and diabetes prevention," he said. "Prevention in truth is the best treatment."
Dai Wenyuan agreed and added the more users it has, the more accurate the assessment results would be.
"Each user in turn would be contributor of the more data to enlarge the data pool of the machine-assisted learning and assessment," he explained. "Bigger data, richer information."
Moreover, the tool would give personalized health intervention plans to each user based on the assessment results, he added.
"This very product is the beginning of our searching and developing AI solutions for health problems and in the future we may try other diseases like hyperlipemia and kidney disease," he said.