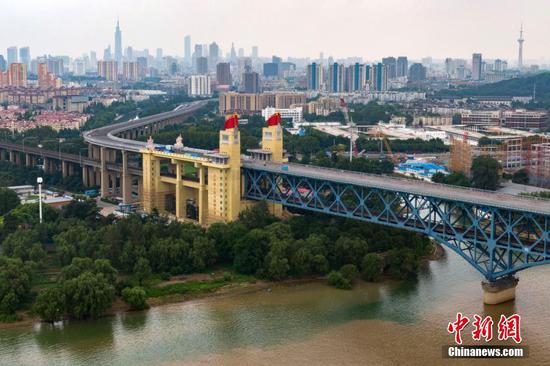 Photo taken on August 27, 2018 shows the renovated Nanjing Yangtze River Bridge in Jiangsu. (Photo/China News Service)
(ECNS) - The Memory Project of Nanjing Yangtze River Bridge, a Chinese art installation, won a special new award at London Design Biennale.
Built in 1968, Nanjing Yangtze River Bridge was China's first major design and engineering project completed without foreign assistance. Its iconic double-decked structure is now recognized as a national cultural monument.
Initiated by professor Lu Andong, the unique project considers the emotional significance of the structure and how it became part of the nation's collective memory.
A highlight of the global design calendar, London Design Biennale presents projects from 40 countries, cities and territories at Somerset House from Sept. 4 to 23 with the theme "Emotional States".
Jeremy Wright, the UK secretary of state for digital, culture, media and sports, and Liu Xiaoming, Chinese ambassador to the UK, were among guests participating in the opening ceremony on Tuesday.
Xiang Xiaowei, minister counsellor for culture at the Chinese Embassy in the UK, said the installation shows the social changes in China over the past half century as it combines a historical view with delicate individual texture through personal narratives.
Sir John Sorrell, president of London Design Biennale, said the memory project is a distinctive work of high quality, full of emotion and depth.
Christopher Turner, head of the architecture and design department at Victoria and Albert Museum, said the judging panel thought highly of the memory project and decided to create a special award in recognition.