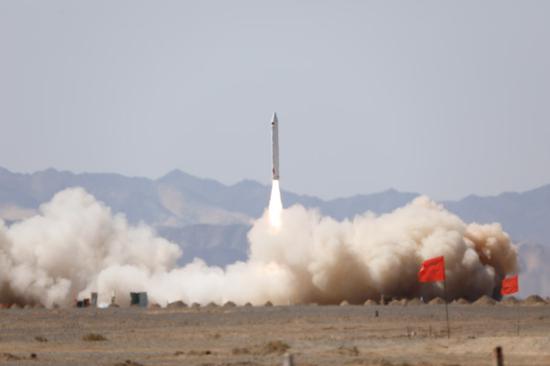 Beijing tech company i-Space has used its own carrier rocket to launch three satellites into space from the Gobi Desert on Sept 5, 2018. (Photo by Chen Xiao/chinadaily.com.cn)
The Beijing-based private company i-Space used its own carrier rocket to place three satellites into space on Wednesday, marking China's first satellite launch by a privately built rocket.
The mission, termed by many industry observers as a landmark in the country's space industry, was conducted at the Jiuquan Satellite Launch Center in northwestern China, which marked the first time that a private rocket blasted off from a government-run space launch site.
Developed and produced by i-Space, a Beijing space startup founded by a group of senior Chinese rocket scientists, the 9.5-meter SQX-1Z solid-propellant carrier rocket roared into the clear sky at 1 pm from a supporting pad from a large desert. With a diameter of 1.4 m and a maximum design speed of 1.5 kilometers per second, the craft soon touched the sky.
According to i-Space, the rocket flew for more than 460 seconds and reached 108 kilometers above the ground before releasing three mini satellites. The satellites – one from ZeroG Lab, a privately owned satellite maker in Beijing and two from ADA-Space, a private firm in Chengdu specializing in satellite design and data services, would travel in the sub-orbit for an undisclosed period of time for technological demonstration and would then fall back to the land to be recovered, the company said in a statement.
Wednesday's launch has been the third time for Chinese private enterprises to carry out space mission and also the second flight by the i-Space rocket family. The company performed its debut launch in April at a research rocket testing site in the island province of Hainan, verifying the design and equipment of the firm's first product, the indigenously developed SQX-1S.