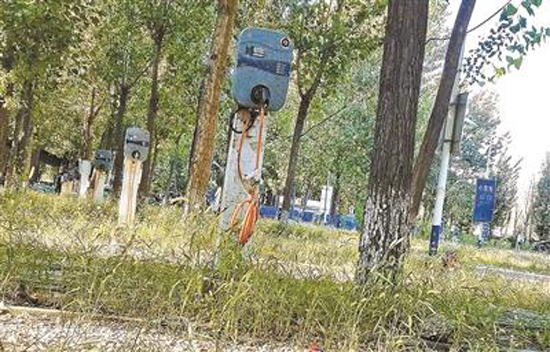 Electric vehicle charging poles have fallen into disrepair near Beijing's Xiedao Resort. (Photo/Beijing Youth Daily)
(ECNS) -- Some 40 electric vehicle charging poles have fallen into disrepair near Beijing's Xiedao Resort, the aftereffects of blind expansion by companies seeking market domination when the electric car industry took off.
Developed without proper planning, the charging poles, most of which are damaged, were installed with a local government subsidy - as much as 30 percent of the project cost - which was established as an incentive to promote new energy cars.
As a condition for receiving the subsidy, operators of the charging stations needed to ensure their ongoing use for at least five years. In Xiedao Resort, this has led to a dilemma as damaged charging stations are not being removed for fear of losing government funding.
Charging devices belonging to Star Charge, an EV charging station operator, are located in a car park, which closed after a fire last year.
According to insiders, Star Charge expanded its business in Beijing in 2015 and was reckless with its installation of charging stations in what was a burgeoning industry. At the time, almost all EV charging station operators were rapidly erecting devices in order to become market leaders.
According to Beijing Youth Daily, from 2014 to the first half of 2016, a large number of charging stations were built in Beijing, with the number of new devices in the city reaching between 7,000 to 8,000 each year. The building of new charging stations shifted in the second half of 2016, which led to only 3,000 new charging points for the whole of 2017.
The use of public charging spots in Beijing is low, so they are mostly left idle. In general, an enterprise can recover their investment cost in about three to four years.
Star Charge said it was now planning to be more prudent with investing in new charging stations.