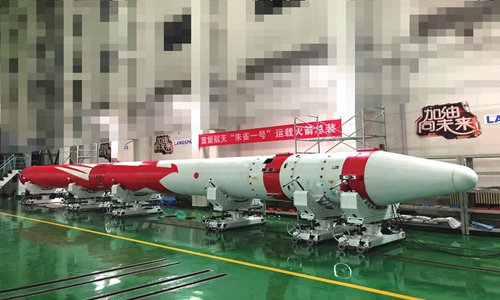 An overview of LandSpace's assembly line. (Photo/Courtesy of LandSpace)
Beijing-based private space company LandSpace completed the final assembly of its solid propellant rocket on Monday for a scheduled fourth-quarter launch, which will be the first Chinese private-sector commercial rocket to go into orbit.
The proprietary three-stage solid propellant rocket by LandSpace, named Zhuque-1, is 19 meters tall with a 1.35-meter diameter and a takeoff mass of 27 metric tons and thrust of 45 tons.
It will fly for two years in a sun-synchronous orbit, according to the company's press release. 
It will carry a small China Central Television satellite for space science and remote sensing for a show on the State broadcaster, said the company.
A technology employee of LandSpace, who asked to be anonymous, told the Global Times at the site of the rocket's final assembly in Xi'an, capital of Northwest China's Shaanxi Province, that compared with traditional rockets, Zhuque-1 has achieved the integrated design of measurement and control systems. This greatly reduces the carrier products' weight and scale, making costs more controllable.
With cutting-edge practices in cost controls and efficiency, private space start-ups have mushroomed in recent years to contribute to China's commercial space development, experts said.
A report by Beijing-based investment institution FutureAerospace said that more than 60 private domestic companies have entered the commercial space industry over the past three years. The country began in 2014 to encourage private capital in the satellite and spaceflight industries, which were previously closed sectors.
Huang Zhicheng, professor of the Beijing Institute of System Engineering, told the Global Times that these companies are growing and have very good prospects. 
"They are on a fast development track with fewer management layers," said Huang.
"Compared with other private space companies, LandSpace is more ambitious with a long-term view, although its upcoming launch is aimed at small rockets carrying small satellites," said Lan Tianyi, founder of Beijing-based Ultimate Blue Nebula Co, a space industry consultancy.
"Relatively simple space tests are easy for these start-ups to reach a milestone in their technology, which can be upgraded generation by generation. For LandSpace, it has a higher starting point, and that is why it is usually likened to China's SpaceX," Lan told the Global Times.
In July, the company said it had designed a rocket powered by methane and liquid oxygen, called Zhuque-2, for a test launch in 2020. 
In the domestic commercial space industry, State-owned behemoths are also becoming more and more competitive in the micro-sized and small launch market, and they are attaching more and more importance to this segment, said Huang.
The China Aerospace Science and Technology Corp, the main contractor for the space program, is aiming to use its light-lift Long March 11 solid-fueled rocket for low latitude sea launches utilizing a large, modified vessel starting this year.
Although the private start-ups cannot compete with State-owned giants in terms of technology, advanced equipment or talent pools, they can flexibly fill in gaps in the market that State companies don't serve, said Wei Lai, chief technology officer at LandSpace.
"Starting with the Zhuque-2, LandSpace will develop a series of rockets with different carrying and propellant abilities, which will supplement the efforts of national players conducting missions in space," Wei told the Global Times.
"In the national strategic security sector, we have the ability to offer alternatives for government procurement," Wei noted.
In May, another private space start-up OneSpace launched the country's first privately designed commercial rocket, carrying satellite to sub-orbit, which is significantly lower than orbit