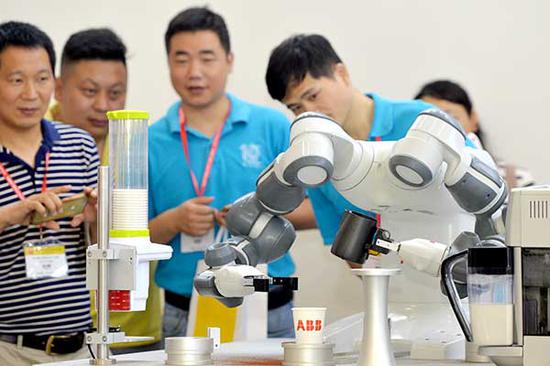 YuMi, a robot produced by ABB, makes coffee for visitors at a fair in Wuhan, Hubei province. (Photo by Zhou Chao/for China Daily)
Editor's Note: This year marks the 40th anniversary of China's reform and opening-up. China Daily interviewed top executives of well-known multinational companies for their views on the country's socioeconomic development.
Swiss industrial giant has localized entire value chain
Please use three phrases to describe China's changes in the past 40 years.
Innovation-driven development, science and technology, and entrepreneurship.
In the past four decades, China has made historic achievements in both economic and social development thanks to the reform and opening-up policy. The country now has a much more robust technological foundation, complete industrial system, vast market, abundant human resources, and dynamic entrepreneurs and innovators.
In the global race for scientific and technological innovation, China has shifted from following others to keeping pace and even leading the pack in more and more areas, becoming recognized globally as a fertile ground for innovation and business ventures.
Focused on fostering new growth drivers to speed up economic structural upgrading, China has the ability and conditions to achieve higher quality, more efficient, fairer and more sustainable development.
What are the biggest achievements in China since the adoption of the reform and opening-up policy 40 years ago?
Over the past 40 years, the Chinese economy has under-gone dramatic changes. Forty years ago, China's GDP per capita was merely $384. By the end of 2017, that figure had skyrocketed to $9,281.
Reform, powered by imported and domestic scientific and technological innovations, is moving up the country's value chain, increasing productivity and improving people's quality of life. The rapid upgrade of infrastructure serves to boost the economy and balance regional development, while also backing poverty alleviation efforts. Meanwhile, data-enabled, real-time responsive, globally connected e-commerce is now reshaping Chinese people's lives, benefiting even the most remote areas of the country.
Innovation is the new momentum for China's sustainable development in the long run, as China pledges to transform its development model from speed to quality and from big to strong.
How has your company benefited from the reform and opening-up policy?
As a participant, witness and beneficiary of China's 40 years of reform and opening-up, ABB has been continuously following national strategies and closely connecting itself with China's development agenda. Many of ABB's milestones in the country accompany important ones in the reform and opening-up timeline.
After decades of fast development, ABB has a full range of business activities in China, including research and development, manufacturing, sales and services. Today, ABB has 17,000 employees located in 139 cities, 40 local companies, and online and offline channels across more than 300 cities. China has remained as ABB's second-largest market worldwide.
In the past four decades, ABB has actively supported China's industrial transformation and upgrading, and the construction of key projects, such as the West-to-East power transmission project, the South-to-North water diversion project, and the West-to-East natural gas transmission project.
Has competition intensified between your company and Chinese companies?
Valuing a win-win philosophy, ABB pledges to become the partner of choice in the Chinese market. We have realized the localization of the whole value chain in China, with a full range of business activities including R&D, manufacturing, engineering, sales and services.
Meanwhile, ABB has been providing one-stop services, including consultancy, design and engineering for a growing number of Chinese companies on their overseas projects. Leveraging the advantages of a global footprint, a wide ranging portfolio and high quality, ABB helps Chinese companies to solve problems thus lowering project costs and risks.