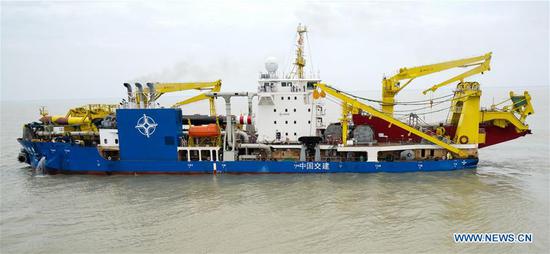 Chinese-built dredging vessel Tian Kun Hao, the largest of its kind in Asia, departs a port for its first sea trial, in Qidong, east China's Jiangsu Province, June 8, 2018. (Xinhua/Li Xiang)
Tiankun is capable of dredging 6,000 cubic meters of sand or clay per hour
China started sea trials on Friday of Asia's largest and most advanced cutter-suction dredger, which is expected to become a mighty "island-maker".
The Tiankun set sail from a shipyard at Shanghai Zhenhua Heavy Industry's Qidong Marine Engineering in Jiangsu province's Qidong, where it was built and berthed, for a three-day sea trial off Zhoushan Archipelago, according to Zhang Xiaofeng, chief designer of the ship at the Marine Design and Research Institute in Shanghai, a subsidiary of China State Shipbuilding Corp.
The trial is set to verify and examine the ship's power and propulsion systems, he told China Daily from onboard the Tiankun.
After the trial, the ship will return to the shipyard for engineers to handle problems exposed during the process. It will then be delivered to the user, China Communications Construction Co's Tianjin Dredging Co, Zhang said.
Zhang's institute calls Tiankun "a magic island-maker", explaining that it is the best of its kind in Asia. It can be used to conduct coastal and channel dredging and land reclamation operations.
With a full displacement of 17,000 metric tons, the 140-meter-long ship is capable of dredging as much as 6,000 cubic meters of sand or clay per hour from 35 meters below the water's surface, a capacity that means it could dig three standard swimming pools in an hour. The vessel is equipped with one of the world's strongest cutter-suction systems, with four types of cutters that can handle various seabed substances, including hard rock.
After sand, clay or scattered coral reef is drawn out of the waters, it can be conveyed to as far away as 15 kilometers from the ship, thanks to the world's most powerful and longest conveyance system, according to the institute. The suctioned substances can be piled up to form new land.
There are only four countries in the world-China, the Netherlands, Belgium and Germany-that are able to develop cutter-suction dredgers, the most technologically sophisticated ship used for marine engineering, according to Fei Long, deputy chief designer at Marine Design and Research Institute.
Before Tiankun, the largest cutter-suction dredger in Asia was Tianjin Dredging Co's Tianjing, which was designed by Chinese and German engineers. It can handle 4,500 cubic meters of material each hour from 30 meters under the surface.
The Ministry of Commerce and the General Administration of Customs published a notice in May 2017 banning the export of large dredgers by any individual or entity unless expressly permitted by the Chinese government.