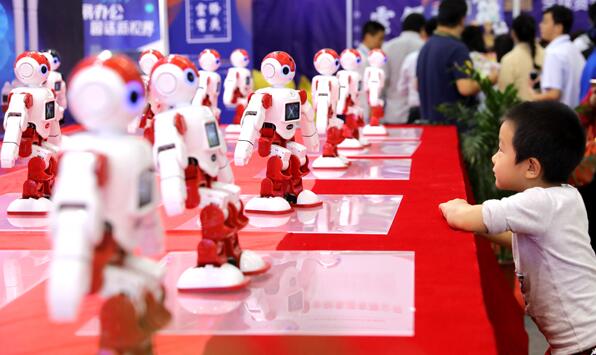 A boy watches robots in action at the 20th China International (Shenzhen) Hi-tech Fair in Shenzhen, Guangdong province, last month. (Photo by Xuan Hui/For China Daily)
Ongoing technology advances in robotics and artificial intelligence in China are expected to create more employment opportunities than job losses, according to a new report from British recruitment company Michael Page.
The report was based on responses from 1,026 employees in the manufacturing, sales, marketing, finance and accounting industries. About 84 percent of the respondents said they are not anxious about being replaced by robots, while 58 percent felt that robots and AI will create more opportunities in the labor market.
Peter Smith, managing director of Michael Page China, said such technology advancements will allow people to take on more innovative jobs. This is especially true for high-tech projects like driverless cars propelled by new technologies as more talents would be needed to invent and develop allied products.
He also pointed out that the adoption of robotics and AI in more scenarios means upgrading in a large number of industries. In this sense, people will have more free time for leisure, thus creating more job opportunities in service and lifestyle industries.
Incidentally, 18 percent of the respondents expressed concerns that human beings might be replaced in the job market eventually, and 48 percent of them said that this will happen in the next five to 10 years.
Smith admitted that robots and AI technology will exert negative impact on entry-level jobs. For example, receptionists, entry-level auditing and banking, as well as some parts of public relations, are very likely to be the first jobs to disappear.
But on the other hand, the demand for creative and technical jobs will increase, he added.
Alex Gu, director of Michael Page China, said it is too early for candidates to be intimidated by the possible challenges from robots or AI.
"Most of the robots are simply taking on complementary roles in the job market. It will take years for them to make a fundamental change in the landscape," he said.
The Chinese government has stressed the development of AI technology in a number of guidelines. In the national technology innovation blueprint for the 13th Five-Year Plan (2016-20) released by the State Council in July 2016, AI has been listed as one of the pioneering technologies for research and development. The State Council stated in an announcement in July this year that China should lead the world in terms of AI theory, technology and application by 2030.
According to global market consultancy Roland Berger, AI will create 10 trillion yuan ($1.5 trillion) of added value by 2030 for sectors including internet, automobile, retailing, finance and medicine.
Both multinational and domestic companies of various industries are responding to the AI wave. According to Gu, AI talents are in huge shortage in China at present, while the demand for talents with engineering background is extremely high.
"Candidates with five years of experience can hardly be found in the domestic job market. Therefore, companies are looking for such talents in the United States, Japan, India and Israel where AI development started relatively earlier," he said. Over time, companies have also been able to screen the right talents, who are able to carry out academic researches independently and put their research results into real practice, he added.