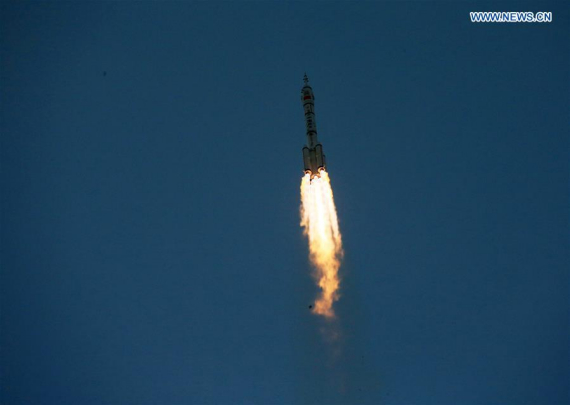 The Long March-2F carrier rocket carrying China's Shenzhou-11 manned spacecraft blasts off from the launch pad at the Jiuquan Satellite Launch Center in Jiuquan, northwest China's Gansu Province, Oct. 17, 2016. (Photo: Xinhua/Li Gang)
China on Monday successfully launched the manned spacecraft Shenzhou-11 that will dock with the space lab Tiangong-2.
The spacecraft, with two male astronauts on board, was launched at the Jiuquan Satellite Launch Center in northwest China's Gobi desert at 7:30 a.m. Beijing Time Monday atop a Long March-2F Y11 carrier rocket.
The spacecraft later entered the designated orbit.
The mission was declared a success by Zhang Youxia, commander-in-chief of China's manned space program, about 19 minutes after the blast-off.
President Xi Jinping, also general secretary of the Communist Party of China (CPC) Central Committee, sent a message of congratulations on the successful launch. Fan Changlong, vice chairman of the Central Military Commission (CMC), read Xi's message.
The mission of the orbiting space lab Tiangong-2 and the Shenzhou-11 manned spacecraft marks the first time that Chinese astronauts will stay in orbit for medium term, Xi, also CMC chairman, said in the message.
Xi urged staff of the mission to carry on their work to guarantee that designated targets will be realized. He also encouraged them to "constantly break new ground for the manned space program, so that Chinese people will take bigger steps and march further in space probe, to make new contribution to the building of China into a space power."
Xi sent the message from the western Indian state of Goa where he attended the eighth summit of the emerging-market bloc of BRICS, which groups Brazil, Russia, India, China and South Africa.  [Special coverage]
Premier Li Keqiang and Liu Yunshan, both members of the Standing Committee of the Political Bureau of the CPC Central Committee, watched the live broadcast of the launch at the command center of China's manned space program in Beijing.
Shenzhou-11 will dock with Tiangong-2, and then the astronauts will enter the space lab. The two astronauts are commander Jing Haipeng, a 50-year-old veteran who carried out Shenzhou-7 and Shenzhou-9 missions before, as well as Chen Dong, 38, who is on his first space mission.
Tiangong-2 has been sent into space on Sept. 15. The rendezvous will occur at the orbit about 393 kilometers above Earth.
A see-off ceremony for the two astronauts was held at the Jiuquan Satellite Launch Center ahead of the launch on Monday morning.