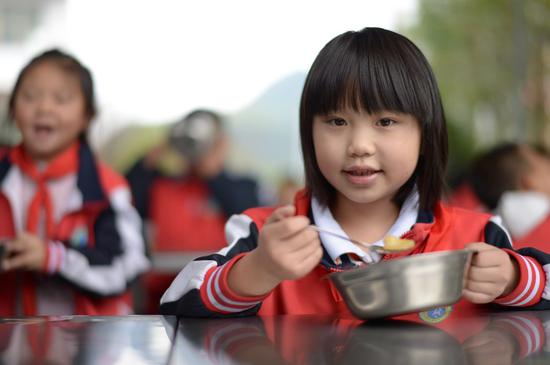 Students have a nutritious diet at a school in Suiyang County, southwest China's Guizhou Province, Oct. 12, 2021. (Xinhua/Yang Ying)
Special: 20th CPC National Congress
For China, the past decade has been an epic journey. Under the leadership of the Communist Party of China, remarkable transformations, landmark projects and historic breakthroughs took place in this land of vitality and prosperity.
An extensive review of these achievements, measured from multiple perspectives, may provide some insights into how far China has advanced in its pursuit of national development and rejuvenation over the past ten years.
NEW HEIGHTS
In May 2020, when an eight-member Chinese team climbed to the summit of Mount Qomolangma to survey the mountain, they kept in touch with the base camp of the peak via 5G network.
This owes to the world's highest 5G base station, which was built at an altitude of 6,500 meters in tandem with the survey mission to provide signals covering the summit of Mount Qomolangma.
Delivering a 5G signal to the world's highest peak is not the only new height China reached in the past decade. On June 25, 2021, the world's highest electrified railway started operation in southwest China's Tibet Autonomous Region, connecting the regional capital Lhasa and Nyingchi City.
The country now also boasts the world's highest civil airport, train station and grid-connected photovoltaic power station as growing innovation and infrastructure strengths are taking the Chinese people to higher levels of development and well-being.
From 2012 to 2021, China's GDP grew from 53.9 trillion yuan (about 7.58 trillion U.S. dollars) to 114.4 trillion yuan, and its per capita GDP jumped to over 12,000 U.S. dollars from 6,300 dollars. Also in this period, the country's contribution to global economic growth exceeded 30 percent.
FASTER SPEED
Backed by technological advancement, development progress and institutional strength, China has gained speed in many areas. In 2021, China introduced a high-speed maglev train that can operate at a top speed of 600 kilometers per hour as the country continued to lead the world in rail technologies.
In December last year, a Long March-4B rocket successfully sent a new group of satellites into space, marking the 400th launch mission of the China-developed Long March carrier rocket series.
Of the 400 launch missions by Long March rockets, the first three 100 launches were completed in 37 years, seven and a half years, and around four years, respectively, while the fourth 100 missions were carried out in only 33 months.
With leapfrog development being made in telecommunication infrastructure, China has become faster digitally. The country has built the world's largest 5G network, and every administrative village now enjoys access to a broadband service.
In the battle against the COVID-19 virus, China also moved fast to brave the challenges. Makeshift hospitals were built quickly, and the shortage of medical resources and supplies was solved in the shortest time possible. By doing so, people's lives and health were protected to the maximum extent.
GREAT STRIDES
Over the past ten years, China has made great strides in different spheres from space exploration, scientific and technological innovation to infrastructure construction.
China's Tianwen-1, consisting of an orbiter, a lander and a rover, successfully landed on Mars on May 15, 2021, nearly 300 days after it was launched from the Wenchang Spacecraft Launch Site on the coast of southern China's island province of Hainan on July 23, 2020.
In September 2022, the C919, China's first homegrown large jetliner, secured certification from the Civil Aviation Administration of China, a milestone step on its journey to market operation.
The 55-km Hong Kong-Zhuhai-Macao Bridge, known as the longest bridge-and-tunnel sea crossing in the world, links China's Hong Kong Special Administrative Region (SAR), the city of Zhuhai in the southern Guangdong Province and Macao SAR. It has brought tremendous opportunities and benefits to the Guangdong-Hong Kong-Macao Greater Bay Area.
PRECISE APPROACH
China's elimination of extreme poverty has been one of the highlights of the country's remarkable development over the past decade.
The country had lifted all of its 98.99 million impoverished rural residents out of poverty by the end of 2020. Precise measures were implemented to improve the efficiency of poverty alleviation work.
This approach required officials of all levels to identify who the actual impoverished people were and the factors that led to their poverty.
Nearly 20 million civil servants and volunteers were positioned in impoverished villages to battle poverty on the frontline. Each household or even family member was given a bespoke poverty relief plan.