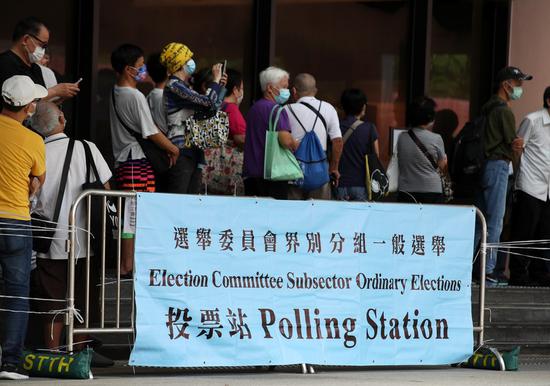 Citizens queue to enter a polling station at the Sha Tin Town Hall in south China's Hong Kong, Sept. 19, 2021. (Xinhua/Li Gang)
Hong Kong has held its first major election since improvements to the special administrative region's electoral system earlier this year, representing a steady step in its democratic advance.
The voting of the 2021 Election Committee's subsector ordinary elections ran from 9:00 a.m. to 6:00 p.m. local time on Sunday at the six polling stations across Hong Kong.
Long queues were seen outside polling centers. Cheung Wai-nam, 29, arrived at a polling station in Wan Chai half an hour before polls opened. "As the electoral system has been improved, we can see a hopeful future," he said.
"I voted before, but I am especially happy today because we can really elect people who love the country and Hong Kong and want to do practical things for us," said Fung Kuen-kwok, a corporate voter from the labor subsector.
Winning candidates will join the new Election Committee to elect 40 Legislative Council (LegCo) members in December, and the Chief Executive designate of China's Hong Kong Special Administrative Region (HKSAR) in March next year.
Sunday's election was the first in Hong Kong after improvements to its electoral system and the implementation of the "patriots administering Hong Kong" principle, Carrie Lam, chief executive of the HKSAR, said on Sunday, noting that the election will bring new development to Hong Kong and lay a sound foundation for future elections.
On March 11, a decision on improving Hong Kong's electoral system was adopted with an overwhelming majority vote at the fourth session of the 13th National People's Congress. A new electoral system took shape in Hong Kong after the state and local amendments. With reformation and greater empowerment, the Election Committee is expanded to 1,500 members from 1,200, bringing in new blood from various sectors.
Among representatives are now farmers, fishermen, and those who grew up in subdivided flats, a ubiquitous poor type of rental housing in Hong Kong. University presidents, academicians and young people are also included.
Observers believe the Election Committee will thus have more balanced participation of people from all walks of life and will better represent the voice of Hong Kong residents and respond to their needs.
It is now more broadly representative of various sectors in Hong Kong, LegCo member Liao Cheung-kong said.
Since Hong Kong returning to the motherland in 1997, the local residents have enjoyed voting rights that were unheard of under the British colonial rule.
"Huge strides have been made" in democratization, said British barrister Grenville Cross, 70, who started to work in Hong Kong in 1978 and used to serve as its first director of public prosecutions.
"In 1984, when the Sino-British Joint Declaration was signed, there was no democracy at all in Hong Kong," Cross said. "That all changed radically after 1997 and the process of gradual democratization under the (HKSAR) Basic Law was embarked upon."
However, the process was repeatedly sabotaged by those who claim to advocate democracy.
Because of the obstruction by the opposition camp in 2015, the fifth-term chief executive failed to be elected through universal suffrage in 2017. On July 1, 2019, large groups of rioters stormed the LegCo building and wreaked havoc inside. During the District Council elections in November 2019, some candidates suffered verbal abuse and physical attacks by radicals on the street and even faced threats to their personal safety.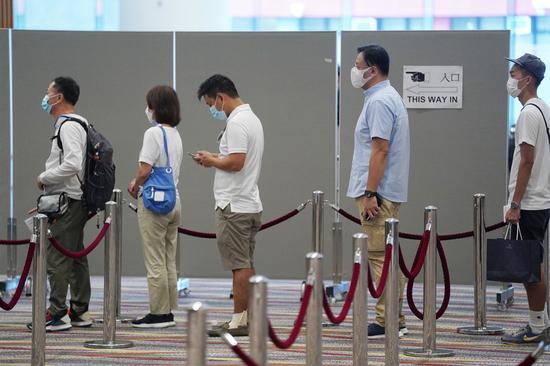 People queue to cast their ballots at a polling station at Hong Kong Convention and Exhibition Center in Hong Kong, south China, Sept. 19, 2021. (Xinhua/Wang Shen)
Tse Hiu-hung, 31, a candidate of the Election Committee elections who won uncontested, clearly remembers the chaotic past and strongly believes that the electoral changes are necessary.
With the new electoral system in place, Tse, who used to serve as a community worker, is confident that the Election Committee will elect true, capable patriots to address problems in Hong Kong and get the city out of its predicaments.
Hong Kong has been plagued by entrenched problems ranging from housing shortage to a wide wealth gap, and young people long for more opportunities. Political distractions over the past years have left such issues unsolved for a too long time.
Wong Wai-man, a 62-year-old electrician, lives in a tiny apartment with six family members, and they are eager to move to a bigger home. "I hope those elected will deal with our housing problem. There are hundreds of ordinary people on the new committee and I believe they can help with our deep-seated problems," he said.
To improve the well-being of Hong Kong's some 7 million people, the mainland will be a big help.
The central authorities have rolled out an array of favorable policies to bolster Hong Kong's development this year, including a new plan for comprehensively deepening the reform and opening-up of the Shenzhen-Hong Kong modern service industry cooperation zone in Qianhai.
"The biggest opportunity for Hong Kong's development lies in the mainland," said Luo Huining, director of the Liaison Office of the Central People's Government in the HKSAR.
Despite social unrest and the COVID-19 pandemic, Hong Kong has bounced back this year, with peace and stability restored and its economy rapidly recovering.
There have been fundamentally positive developments in Hong Kong thanks to the central authorities' support, Carrie Lam has said. "With national security protected and the electoral system improved, we have better conditions for the enduring success of 'one country, two systems,'" she added.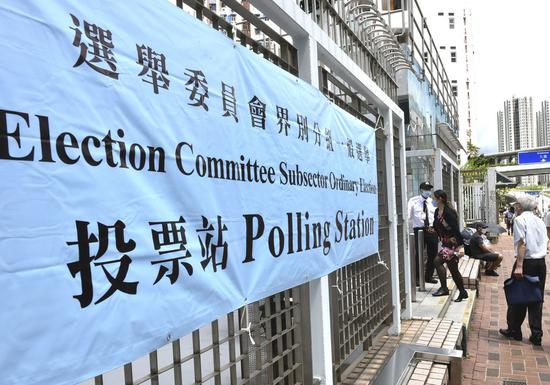 Photo taken on Sept. 19, 2021 shows a polling station in Tsuen Wan of Hong Kong, south China. (Xinhua/Lo Ping Fai)