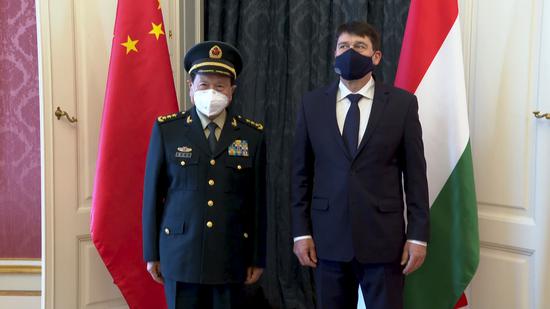 Hungary's President Janos Ader, right, welcomed China's Defense Minister Wei Fenghe to the Sandor Palace in Budapest. (Photo/CGTN)
Special: Battle Against Novel Coronavirus
China's defense minister has spent his first day in Hungary as part of a tour of Central and Eastern Europe.
Wei Fenghe arrived at Sandor Palace, the residence of President Janos Ader, on Wednesday for a series of official discussions. During the visit he also met Hungary's Deputy Prime Minister Zsolt Semjen and Defense Minister Tibor Benko.
The delegation took part in two meetings which each lasted around half an hour, official photographs were taken and there was a tour of the presidential palace and grounds.
While what was discussed is yet to be announced, it has been speculated in local media the meetings may have touched on the CanSino COVID-19 vaccine. The Chinese jab received emergency authorization in Hungary this week and is awaiting approval for mass use from the National Health Center.
It is the second Chinese vaccine to be approved in Hungary, following the shot made by Sinopharm. The CanSino vaccine was developed with the assistance of a military research team and has also been used to vaccinate military personnel in China.
Comprehensive strategic partnership
Wei previously hosted Hungary's defense minister in Beijing in November 2019, marking 70 years of diplomatic relations between the two nations. During that visit, the pair signed a memorandum of understanding relating to the field of internal monitoring and cooperation between military healthcare services.
Both parties also spoke of a comprehensive strategic partnership that had deepened in recent years and noted they planned to further develop the relationship. In those meetings, Benko pointed to illegal migration and cyber-vulnerability as areas on which Hungarian security was focused. He also voiced his support for the cooperation between China and Central and Eastern Europe through the Belt and Road Initiative.
Hungary's Foreign Minister Peter Szijjarto won't take part in the talks as he's currently in Brussels for European Union and NATO meetings. However, it is understood a Hungarian defense force attaché returned from Beijing to be in Budapest for the discussions.
The two defense ministers are due to meet again on Thursday for further talks in Budapest. Following the second day of the tour, the Chinese delegation will head to Serbia for another two days of meetings in Belgrade. The group will remain in the region into next week with further visits to Greece and North Macedonia.