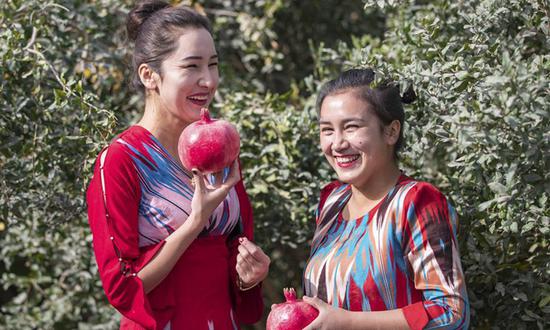 Farmers pick megranates in Pishan County of Hotan, northwest China's Xinjiang Uygur Autonomous Region, Oct. 8, 2020. In summer and autumn, the vast land in Xinjiang embraces the harvest season. (Xinhua/Adil Nadir)
A research report from the perspective of Xinjiang's population
By Zuliyati Simayi and Zhang Yaxi,School of Marxism Xinjiang University
Population is a fundamental, overarching and strategic issue faced by human society. People's understanding of population issues has always been changing with the development of economy and society and the progress of science and technology. Under the initiative of the United Nations,national governments, international organizations and non-governmental organizations have held a large number of international conferences on population issues in order to increase common concern over population issues, realize shared perception of population development and jointly promote population development. At the 1994 International Conference on Population and Development held in Cairo, the United Nations adopted the Programme of Action of the International Conference on Population and Development, clarifying the correlation among population, sustained economic growth and sustainable development. The adoption of the Programme of Action not only indicated an inseparable relationship between population and development, but also means that promoting population development while realizing sustainable development is of great necessity. Therefore, population development not only refers to the changes in number, quality, structure and distribution of population and the development of their relations, but also involves the changes in the interaction between population and economy, society, resources and environment.
Since the founding of the People's Republic of China over 70 years ago, the Chinese government has always been adopting a perspective of population in the deployment of economic development strategies, formulation of social development policies and investigation of resource and environmental issues, attaching importance to and adjusting the relationships between population and economy, society, resource, environment and other factors. Xinjiang belongs to China. The population situation in Xinjiang, like that of other parts of China, has always been a priority of the Chinese government. At present, Xinjiang is in a golden period of prosperity and development, with sustained economic development, harmonious and stable society, and people living and working in peace and contentment. However, in order to realize its ulterior political purpose, the United States has repeatedly fabricated lies of China "violating human rights of ethnic minorities" under the pretext of human rights. In the western countries' public opinion campaign against China's Xinjiang, some scholars have conducted a lot of academic activities disregarding the reality in Xinjiang. In June 2020, the German scholar Adrian Zenz published a research report through Jamestown Foundation titled Sterilizations, IUDs, and Mandatory Birth Control: The CCP's Campaign to Suppress Uygur Birthrates in Xinjiang (later referred to as "the report"), which is filled with distorted facts, undetailed information and data of unknown sources. It can be regarded as another attempt to defame Xinjiang from the perspective of population.
I. Expose lies disguised with so-called "truth"
A lie is a nonfactual statement intended to deceive. Some American politicians believe that "a lie told a thousand times becomes the truth", but the lies disguised with so-called "truth" are bound to be exposed by the truth itself. In recent years, some U.S. politicians have repeatedly used human rights as an excuse to wantonly interfere in China's internal affairs, citing fact-distorting research reports written by anti-China scholars concerning the so-called issues of Xinjiang and Hong Kong, etc. For example, U.S. Secretary of State Mike Pompeo quoted the anti-China scholar Adrian Zenz's so-called research reports on Xinjiang for multiple times in his Xinjiang-related remarks. Therefore, the following parts will begin with an analysis on Adrian Zenz's latest "report" published in June 2020 by the Jamestown Foundation, and then on Adrian Zenz himself and his viewpoints according to the population changes in Xinjiang "discovered" by Adrian Zenz, so as to further understand the ulterior motives of some American politicians.
1. Know Adrian Zenz as a "scholar"
In the Editor's Note of the report, Dr.Adrian Zenz is described as "one of the world's leading scholars on People's Republic of China (PRC) government policies towards the country's western regions of Tibet and Xinjiang."(Quoted from Adrian Zenz's report.) If that were true, Dr.Adrian Zenz should be a scholar of extraordinary academic influence. However, in recent years, he has produced several "research reports" on Xinjiang and drawn the absurd conclusion that Xinjiang's total re-education internment figure is estimated at just over one million.Also, we can know more about him through the information given by other foreign media. According to an article published on the independent news website "The Grayzone",Adrian Zenz is actually a far-right fundamentalist Christian and evangelical zealot. He is a senior fellow in China studies at the far-right organization named Victims of Communism Memorial Foundation, which was established by the U.S. government in 1983. He is also the backbone of the Research Group on Xinjiang's Education and Training Centers, an academic body allegedly set up and controlled by U.S. intelligence agencies. Based on the above analysis, we can say Adrian Zenz is a "scholar" supported by the United States to make anti-China remarks.The opinion that Adrian Zenz is one of the world's leading scholars on China policies towards Tibet and Xinjiang is obviously untenable.