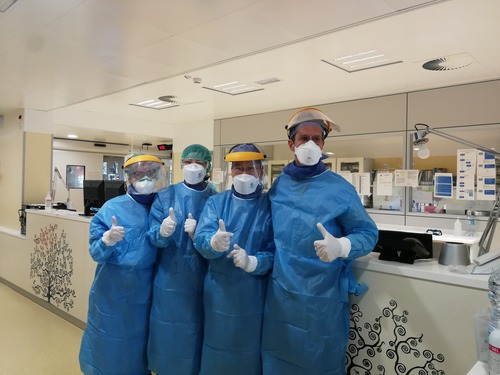 Chinese medical team experts and Italian doctors pose for a photo during the COVID-19 pandemic in Padua, Italy, March 18, 2020. (Xinhua)
In a year shadowed by the onslaught of coronavirus outbreak, the world witnessed glimmers of hope in China's unremitting efforts on rallying global consensus on COVID-19 response and charting the course for future development.
In the face of an unprecedented global crisis, Chinese President Xi Jinping engaged in intensive head of state diplomacy, sharing thoughts with world leaders on addressing the fundamental questions of the times, and offering China's proposals to the resolution of global challenges.
Throughout the year, Xi had 80 phone calls with foreign leaders and heads of international organizations and attended 22 important diplomatic events in the form of "cloud diplomacy" through the innovative virtual platform.
The president's diplomatic engagements have helped build global consensus on COVID-19 and pointed out the way forward for China's foreign policy, said China's State Councilor and Foreign Minister Wang Yi.
RALLYING CONSENSUS
The COVID-19 pandemic is continuing to wreak havoc across the world. As of Saturday, the virus has infected more than 79 million people and claimed over 1.7 million lives worldwide, with cases continuing to surge.
At this crucial time when the world urgently needed its leading players to rise up to challenges and act with swiftness, Xi proposed his solutions in the form of solidarity and cooperation -- the most powerful weapon for defeating the virus.
At various international platforms, including the World Health Assembly, the UN high-level meetings and the G20 Leaders' Summit, Xi called on countries concerned to step up exchanges on epidemic monitoring, scientific research, and disease control and treatment while opposing attempts to politicize the pandemic.
With a strong sense of responsibility, China proposed building a community of health for all and launched the largest global humanitarian campaign since the founding of the People's Republic of China in 1949.