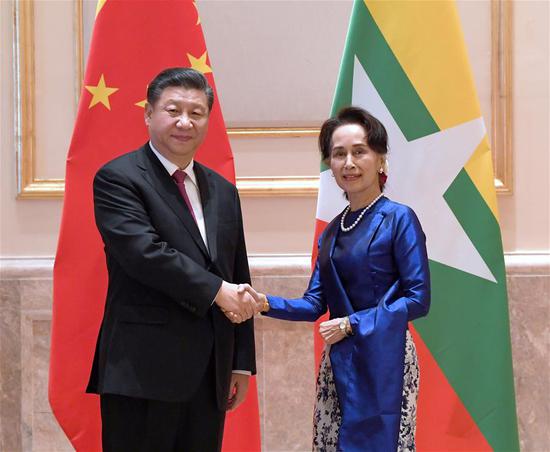 Chinese President Xi Jinping meets with Myanmar State Counsellor Aung San Suu Kyi after attending a grand welcome ceremony hosted by Myanmar President U Win Myint at the presidential palace in Nay Pyi Taw, Myanmar, Jan. 17, 2020. Aung San Suu Kyi came to the presidential palace to extend her warm greetings to Xi. (Xinhua/Rao Aimin)
Special: Xi visits Myanmar
Chinese President Xi Jinping and Myanmar State Counsellor Aung San Suu Kyi had a cordial and friendly talk at Myanmar's presidential palace on Friday.
Aung San Suu Kyi, who came to the presidential palace to extend her warm greetings to Xi, said that it has been a long-awaited state visit to Myanmar.
The visit, ahead of the Chinese Lunar New Year and against the backdrop of the 70th anniversary of the Myanmar-China diplomatic relations, bears special significance, she said.
The Myanmar side appreciates and cherishes China's long-term and huge support, she added.
The "Paukphaw" (fraternal) friendship between Myanmar and China has stood the test of time, and its profound meaning could only be appreciated by the two countries, said Aung San Suu Kyi.
China has always been a good friend to Myanmar and the two countries have been bound together, she said, adding that Myanmar stands ready to keep sharing weal and woe and build a community with a shared future with China.
Aung San Suu Kyi said she believes that Xi's visit will usher in new developments in bilateral relations.
For his part, Xi said he appreciates the hospitality of the Myanmar government and people.
Xi said that it is his first visit to Myanmar as Chinese president and his first overseas trip in 2020, during which the two countries will celebrate and launch a series of events marking the 70th anniversary of China-Myanmar diplomatic relations.
That, Xi said, is of great significance.
China staunchly supports Myanmar in following the development path of its own choice, and stands ready to consolidate and deepen the "Paukphaw" friendship between the two countries and two peoples, keep enriching its connotation and jointly build a China-Myanmar community with a shared future, he said.
Before the talk, Myanmar President U Win Myint hosted a grand welcome ceremony in Xi's honor at the presidential palace.