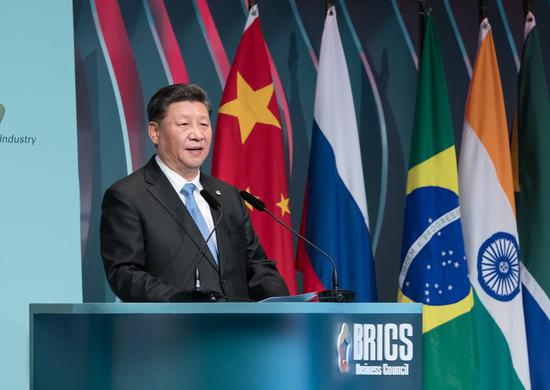 Chinese President Xi Jinping speaks at the closing ceremony of the BRICS business forum in Brasilia, Brazil, Nov. 13, 2019. (Xinhua/Ding Haitao)
Special: Xi visits Greece, attends BRICS summit in Brazil
Chinese President Xi Jinping on Thursday called on the BRICS countries to undertake their due obligations in championing and practicing multilateralism.
Xi made the appeal in a speech entitled "Together for a New Chapter in BRICS Cooperation" at the 11th summit of BRICS, an emerging-market bloc that groups Brazil, Russia, India, China and South Africa.
The BRICS countries should shoulder their responsibilities, champion and put into practice multilateralism, and foster a security environment of peace and stability, proposed the Chinese president.
They should seize the opportunities that come with reform and innovation and deepen the BRICS Partnership on New Industrial Revolution, Xi said.
He also urged the BRICS countries to promote mutual learning to take people-to-people exchanges to greater breadth and depth.
In his speech, Xi pledged that China will open up still wider, promote high-quality Belt and Road cooperation, and strive to build an Asia-Pacific community with a shared future and a community with a shared future for mankind.
Noting that the summit was held at a time when crucial developments are taking place in the world economy and international landscape, Xi pointed out that a new round of technological revolution and industrial transformation is in the ascendant, and the unstoppable rise of emerging markets and developing countries has injected strong impetus to the reform of the global economic governance system.
Nevertheless, there are also causes for concern, Xi said, referring to rising protectionism and unilateralism; greater deficit of governance, development and trust; and growing uncertainties and destabilizing factors in the world economy.
Faced with profound changes rarely seen in a century, Xi said, the BRICS countries should grasp the trend of the times, respond to the call of the people, and shoulder their responsibilities.
"We must remain true to our unwavering commitment to development and strengthen solidarity and cooperation for the well-being of our people and for the development of our world," he said.