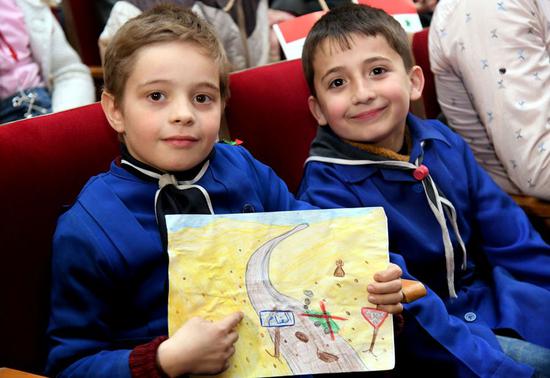 Young Syrians attend an awareness session about the danger of the conflict leftovers such as land mines in Damascus, capital of Syria, on March 7, 2019.(Xinhua/Ammar Safarjalani)
The United Nations on Thursday voiced grave concern over civilian suffering in northwest Syria amid intensified airstrikes and shelling.
"The UN remains gravely concerned over the safety and protection of some 4.1 million women, children and men in northwest Syria, including some 2.1 million internally displaced people, following an intensification of airstrikes and shelling in recent days in Idlib," said Stephane Dujarric, spokesman for UN Secretary-General Antonio Guterres.
Shelling was reported in 13 communities inside Idlib governorate, reportedly killing at least two people and injuring 20. Shelling was also reported in several neighborhoods in west Aleppo city, leaving at least one man dead and six people wounded, said Dujarric, citing Wednesday's reports from the UN Office for the Coordination of Humanitarian Affairs.
An airstrike on Wednesday reportedly impacted the Orient hospital in the town of Kafr Nabl in Idlib, injuring several people and rendering the hospital inoperable, Dujarric told a regular press briefing.
More than 1,000 people have lost their lives -- many of them children -- and over 400,000 have been displaced in Syria's northwest since the end of April, he said.
"The UN continues to remind all parties of their obligations to protect civilians and civilian infrastructure in line with international humanitarian law and international human rights law," said the spokesman.