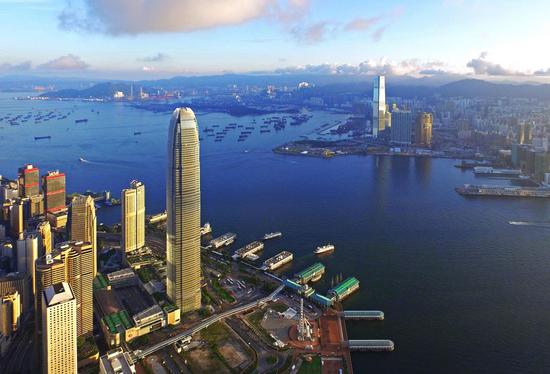 Aerial photo taken on April 30, 2018 shows the Victoria Harbor in south China's Hong Kong. (Xinhua/Qin Qing)
The appeal for peaceful and fair district council elections has been on the rise in Hong Kong amid escalating violent acts and threats targeting candidates and voters.
Nearly 200 candidates of the elections took to the street on Thursday, urging the Electoral Affairs Commission (EAC) to take immediate measures to ensure the elections be held in a peaceful, fair and open manner.
The procession started at the Hong Kong Special Administrative Region (HKSAR) government headquarters at 3:30 p.m. local time and headed for the office of EAC. Many participants waved posters that condemn violence and wore green head ribbons to show support for peace.
As the march reached the office of EAC, HKSAR lawmaker Chan Hak-kan read out a petition letter, citing harassment and assaults on pro-establishment candidates. The lawmaker urged the HKSAR government and EAC to take specific measures to ensure a safe and fair environment for the upcoming elections.
The safety of more than 1,000 candidates must be protected, and efforts must be taken to ensure over 4 million voters can exert their voting right without fear, Chan said.
Nicholas Muk, a candidate and a teacher of Pui Kiu Middle School, said his campaign events were disrupted many times, with himself verbally abused and his posters torn up.
"The radicals would throw petrol bombs and commit violent attacks, which makes a lot of people scared and worried about their personal safety," Muk said.
Junius Ho, the HKSAR lawmaker running for the re-election in district council of Tuen Mun, was stabbed in the left side of his chest by a male in his election campaign event near Richland Garden, Tuen Mun, on Wednesday morning.
Hong Kong citizens have called for joint efforts to stop violence so as to create a peaceful and fair environment for the elections which will be held on Nov. 24.
The Independent Commission Against Corruption said last week that by the end of October, it had received 77 complaints in relation to the district council election, of which 28 cases involved use of force or duress against candidates.