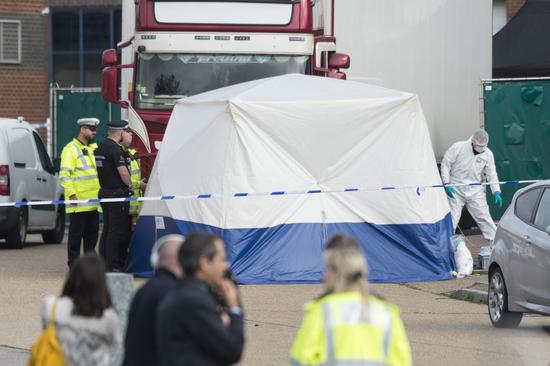 Police officers work at the scene where 39 bodies were found in a shipping container at Waterglade Industrial Park in Essex, Britain, on Oct. 23, 2019. (Photo by Ray Tang/Xinhua)
All 39 people found dead in the Essex lorry incident were confirmed to be Vietnamese nationals, Vietnam's Ministry of Public Security announced on Thursday evening.
The 39 victims were from six Vietnamese localities of Hai Phong, Hai Duong, Nghe An, Ha Tinh, Quang Binh, and Thua Thien Hue, the ministry said on its website.
Sending his condolences to the victims' families, Vietnamese Prime Minister Nguyen Xuan Phuc called on Vietnamese authorities and people nationwide to support them to overcome the great loss.
The prime minister has directed the Ministry of Foreign Affairs, the Ministry of Public Security, and other authorities to work closely with the British side to urgently handle relevant issues, including identifying information and names of the victims and taking necessary protective measures so as to soon repatriate their bodies back home, said the statement published on the government's portal on Thursday evening.
The Vietnamese government strongly condemns acts of trafficking and calls on countries in the region and the world to step up cooperation, and resolutely prevent and combat this particularly dangerous crime so as not to repeat the same tragedies, and complete investigations soon and bring the criminals to justice.
The Vietnamese government highly appreciates the cooperation of British authorities regarding the case, Phuc said, expressing sincere thanks to the British people, overseas Vietnamese in Britain and other countries for caring, sharing, and showing their sympathy for the victims in this incident.