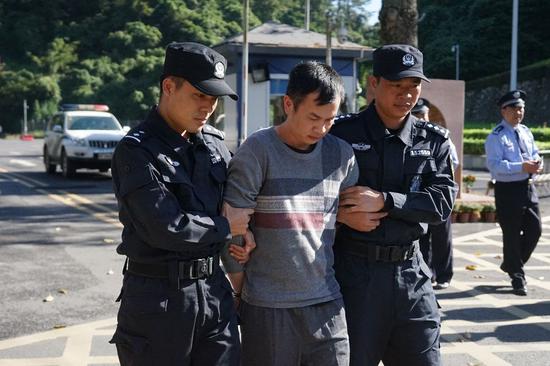 Hoang Minh Thong, a fugitive suspected of smuggling drugs, is escorted by police officers in south China's Guangxi Zhuang Autonomous Region, on Oct. 29, 2019. (Xinhua/Hu Jiali)
Chinese police on Tuesday sent a Red Notice fugitive back to Vietnam through the China-Vietnam border in southwest Guangxi Zhuang Autonomous Region.
The fugitive, named Hoang Minh Thong, is the fifth fugitive that China has handed over to Vietnam this year, according to the police.
Hoang has been smuggling drugs through the border for several years. He was involved in a major drug trafficking case in Vietnam back in December 2017, then he fled to Guangxi to continue his cross-border drug dealing business. Vietnamese police issued a warrant for Hoang's arrest in October 2018, and he was later listed on an Interpol Red Notice.
He was arrested in Guangxi on Sept. 27, local police said.
"In recent years, the anti-drug departments of China and Vietnam have launched joint operations and joint task forces to crack down on drug trafficking at the border areas," said Zhao Wanpeng, police counselor of the Chinese Embassy to Vietnam.
The drug activities in Guangxi have been contained compared with last year, according to Yan Qiwei, director of the region's anti-drug office.
Police data shows that this year, the number of large-scale drug trafficking cases cracked by police in Guangxi dropped 42 percent year on year. The amount of heroin flowing from abroad into Guangxi declined 51 percent, while the amount of heroin transported from Guangxi to other parts of China dropped by 74 percent, Yan said.