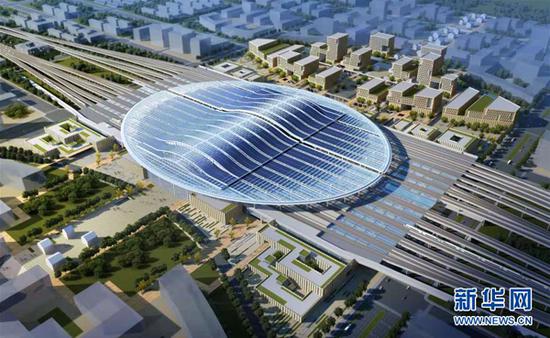 Aerial view of Xiongan Railway Station. (Photo/Xinhua)
Special: 70th birthday of PRChina
(ECNS) -- The main underground construction of the Xiongan Railway Station, part of the high-speed intercity railway linking with Beijing, has been completed, according to the builder.
China Railway Construction Engineering Group (CRCEG) said efforts will now focus on structures above ground as the station is scheduled to be operational by the end of 2020.
New technologies to ensure progress, safety and management have been utilized in the construction of the railway station, the first major project in the new area, said Wang Xingyun, Party chief of CRCEG's Xiongan project.
Xiongan Railway Station has a total floor area of 475,200 square meters, with two floors underground and three above. The station will also host office spaces. It will be a transportation hub to allow rapid access to Beijing, Tianjin, and Shijiazhuang cities, within an hour.
The 92.03-km line will run between Beijing's urban areas, Beijing's new airport in Daxing, and Xiongan, with five stations on the railway.
In April 2017, China announced the establishment of the Xiongan New Area, spanning three counties in Hebei Province about 100 km southwest of Beijing. Xiongan will be the location for many of Beijing's non-capital functions and relocated population.