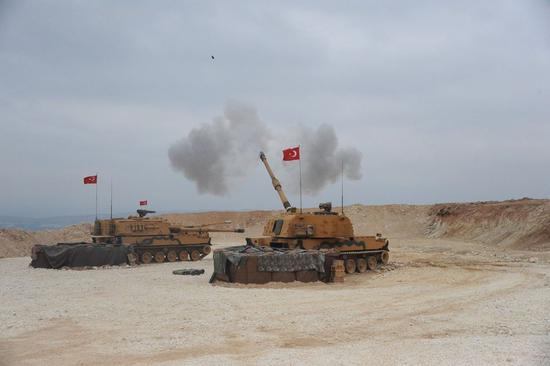 Photo released by Turkish Defense Ministry shows Turkish army launches a military operation into northern Syria on the Turkey-Syria border, on Oct. 9, 2019. (Xinhua)
U.S. President Donald Trump announced on Monday that he will soon issue an executive order authorizing sanctions against former and current Turkish officials over the country's offensive in Syria.
He also said in a statement that America will immediately stop negotiations over a 100-billion-U.S. dollars trade deal with Turkey and raise tariffs on steel imports from Turkey back up to 50 percent, as part of the U.S. response to Turkish military operations starting Wednesday targeting the Kurdish forces in several parts of northeast Syria.
Over the weekend, Trump ordered withdrawal of around 1,000 U.S. troops from northern Syria.