Special: Xi Attends Informal Meeting with Indian PM, Visits Nepal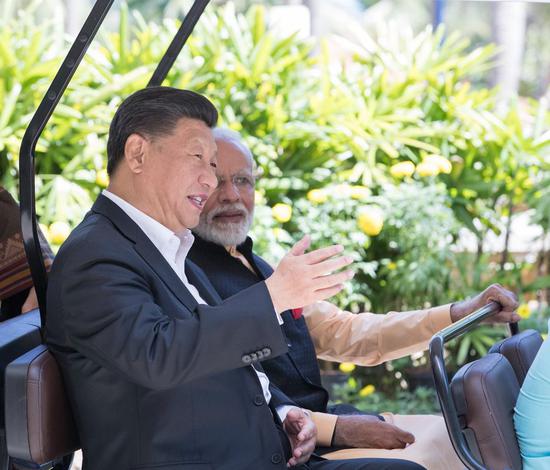 Chinese President Xi Jinping and Indian Prime Minister Narendra Modi continue their informal meeting in Chennai, India, Oct. 12, 2019. (Xinhua/Wang Ye)
DEEPENING TRADITIONAL CHINA-NEPAL FRIENDSHIP
Over the past more than half a century since the establishment of China-Nepal diplomatic ties, the two countries have respected, trusted and supported each other, serving as an example for countries with different sizes to live in harmony, said Wang, adding that Nepal is an important partner of China in the joint construction of the Belt and Road in South Asia.
In the first state visit to Nepal by a Chinese head of state in 23 years, Xi and the leaders of Nepal jointly planned for the future development of bilateral relations, and witnessed the signing of 20 cooperation documents concerning various areas of the national interest and people's livelihood, Wang said.
Bilateral relations between the two countries have also been lifted to a new height, said Wang, noting that China and Nepal have agreed to upgrade their relations to a strategic partnership of cooperation featuring ever-lasting friendship for development and prosperity.
Such a new positioning helps chart the course for future development of bilateral relations, Wang said.
The Nepali side said they stand firm in upholding the one-China policy and will never allow any force to use its territory for separatist activities against China. No matter how external circumstances change, Nepal's friendly policy toward China will remain unchanged.
Connectivity construction between the two sides has made new progress, Wang said.
Leaders of the two countries have agreed to align the China-Nepal co-construction of the Belt and Road with Nepal's national development strategy of building itself a land-linked country.
Wang said that the two countries will accelerate the building of the Trans-Himalayan Multi-Dimensional Connectivity Network through connectivity projects including ports, highways, railways, aviation and communications, and have announced the launch of a feasibility study of the China-Nepal cross-border railway.
Good-neighborly and friendly cooperation between the two countries has also yielded new results, Wang said.
Xi said the two sides will build an all-around cooperation pattern, enhancing their cooperation in four areas of trade and investment, post-earthquake reconstruction, energy and tourism, according to Wang.
China has pledged to continue supporting Nepal in the country's post-earthquake reconstruction, and provide support and assistance for the improvement of local people's livelihood, Wang said, adding that the two sides have also agreed to expand exchanges and cooperation in such fields as education and youth, and at local levels.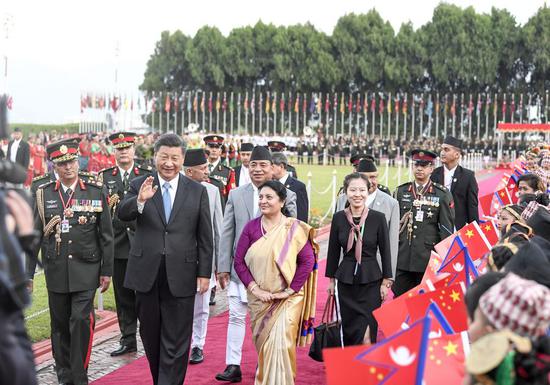 Chinese President Xi Jinping attends a welcome ceremony held by Nepali President Bidya Devi Bhandari upon his arrival at the airport in Kathmandu, Nepal, Oct. 12, 2019. Xi Jinping arrived in Kathmandu on Saturday for a state visit to Nepal. (Xinhua/Gao Jie)
MAINTAINING REGIONAL PEACE, STABILITY
Wang said the recent strained India-Pakistan relations and unrest in the region have drawn grave concerns from the international community.
He said both India and Pakistan are friendly neighbors of China, and the Chinese side hopes that the two countries can properly manage and control differences and improve their ties.
Prior to Xi's trip to South Asia, the Chinese president listened to the views and propositions of the Pakistani side in his meeting with Pakistani Prime Minister Imran Khan.
In Chennai, Xi said all sides should work together to promote regional peace and stability, and achieve common development and prosperity.
Wang said China is willing to develop and deepen mutually beneficial cooperation with all South Asian countries, adding that China's respective relations with India, Pakistan and other South Asian countries could run in parallel and develop together, neither targeting any third party nor being influenced by a third party.
During Xi's visit, leaders of India and Nepal once again extended warm congratulations to Xi on the 70th anniversary of the founding of the People's Republic of China, expressing their admiration for the remarkable achievements China has made in the past seven decades.
Leaders of both countries said China's development sets an example of self-reliance for developing countries, and creates significant opportunities for the two countries, South Asia and the world to achieve peace and prosperity, adding that China's development is unstoppable.