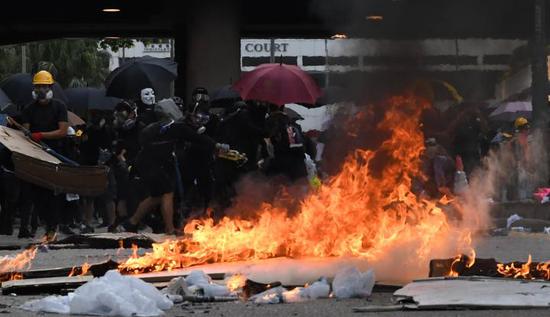 Rioters set fire outside government headquarters complex in Admiralty in south China's Hong Kong, Oct. 1, 2019. (Xinhua)
Hong Kong was hit by a fresh bout of violence on Tuesday when black-clad rioters damaged properties, attacked police, set fires and paralyzed traffic.
The unrest started with unauthorized assemblies in areas including Wan Chai, Sham Shui Po, Tuen Mun, Sha Tin, Tsuen Wan and Wong Tai Sin.
Some rioters hurled multiple petrol bombs at police officers, along with other objects. Some mistakenly landed on other protesters' umbrellas.
Local TV channels also showed them beating police with clubs and umbrellas.
As the level of violence escalated, some rioters sprayed corrosive fluid at the police, injuring several police officers and reporters. Photographs of an officer who had his chest and arm burnt by the fluid and a hand bleeding were posted on social media.
In Wan Chai, mobsters torched a national flag at a tram station. In Wong Tai Sin, they set fire to electric bikes.
Rioters stormed the Tsuen Wan Government Offices at about 6 p.m. local time, throwing petrol bombs and destroyed the ceiling and bulletins.
A number of shops were vandalized, including at least one China Mobile outlet, a Bank of China branch office and an Arome Bakery.
In Tsuen Wan, rioters set a mahjong parlor ablaze and painted characters of "gangsters" on the shutter.
At about 7:30 p.m. local time, rioters forced open a snack store of Best Mart 360. They swept all items to the floor with iron sticks. Many wine bottles were smashed and the shop was teeming with a strong smell.
Traffic was disrupted as rioters set up blockade with trash cans, dismantled iron railings and burning stuff on streets.
By Tuesday evening, rioters vandalized and set fire to about 20 Mass Transit Railway (MTR) stations, flinging petrol bombs to the tracks, the entrances, the elevators and the platforms. The surveillance camera in Tsuen Wan station was damaged and the glass of security operation rooms was smashed.
A Mandarin-speaking man in gray T-shirt was beaten up by a swarm of rioters in Mong Kok, with blood on his head. Witnesses said that he was taking photos, which angered the rioters.
Police said after repeated warnings in vain, they have "deployed tear gas and appropriate force" to disperse the rioters.
An 18-year-old man was shot near the shoulder when he attacked a police officer with an iron stick. "The police officers' lives were under serious threat," said a police spokeswoman. The police officer shot the man to save his colleague and himself, she said. The man's life is not in danger now.
Lo Wai-chung, Commissioner of Police in HKSAR, defended the officer's shooting at a briefing late Tuesday night, saying it was "both legal and reasonable."
He said that the officer opened fire after some rioters attacked him with sharp and hard objects, threatening his life. Even after his shooting, the rioters still wouldn't give up beating another officer who had fallen on the ground. The rioters also hurled petrol bombs at the police.
Convenor of Safeguard Hong Kong Alliance, lawyer Kennedy Wong Ying-ho, cited the Police General Orders to justify the police officer's act.
According to the Police General Orders, officers are allowed to open fire under three circumstances: to protect someone, including themselves, from death or serious injury; to bring about the arrest of any person who has just committed a serious or violent crime; or to quell a riot or insurrection.
Wong said that in the incident on Tuesday afternoon, a police officer saw his colleague being attacked by a group of rioters and falling down a few meters in front of him, and the officer himself was being assaulted by mobsters.
"It was clear in video clips that the rioter was wielding something like an iron pipe to hit the officer's arm, and continued the violence despite warnings. So the officer had every reason to open fire."
Lawrence Ma Yan-kwok, Executive Council Chairman of Hong Kong Legal Exchange Foundation, said that to effectively stop violence, the police officer must aim the rioter's torso, rather than limbs which would be difficult to shoot.
Police advised Hong Kong residents to refrain from going out and urged those outdoors to return home as soon as possible.
The prolonged unrest in Hong Kong has seriously disrupted people's normal life and hurt local economy.
Nearly 30 shopping centers, numerous street stores, as well as some playgrounds, public libraries and clinics were closed on Tuesday.
A total of 47 MTR stations were closed by Tuesday evening. Some buses suspended services, while more than 80 others were forced to reroute.
On Monday, Hong Kong police warned of possible violence escalation, saying that the rioters' acts are "one step closer to terrorism."
Tse Chun-chung, chief superintendent of the Police Public Relations Branch (PPRB), said on Monday that police received intelligence suggesting some hard-core violent protesters are inciting others, including those with suicide tendencies, to commit extreme acts like murdering police officers, disguising as police officers to kill others and setting fires in petrol stations.
Tuesday marks the 70th anniversary of the People's Republic of China, which was celebrated across the country.
The Tiananmen Square in Beijing, the symbolic political heart of socialist China, was turned into a sea of joy as more than 200,000 people took part in the over two-and-a-half-hour celebrations that featured marching soldiers, roaring jets, rumbling tanks, colorful floats, singing children and cheering crowds.
In Hong Kong, more than 1,000 local hikers mounted the Dragon's Back, a ridge in the southern part of Hong Kong Island, while chanting "Keep it up, China!" and "Hong Kong, I'm with you!" Another group of youth unfurled a huge national flag on top of Tai Mo Shan, the highest peak in Hong Kong, and displayed another banner to mark the occasion.
In his speech at the grand reception hosted by the government of Hong Kong Special Administrative Region (HKSAR), Acting Chief Executive Matthew Cheung said: "We need more than ever the solidarity of all Hong Kong people to work towards the same goal, seek common ground and accommodate differences."