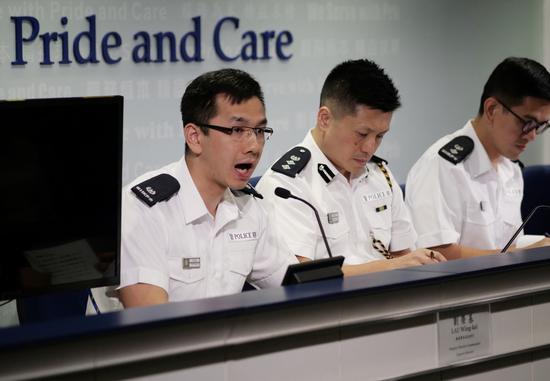 Hong Kong police officers pledge to take swift action against any street violence or other illegal activities in Hong Kong, on Sept 20, 2019. [Photo/Xinhua]
Hong Kong police on Friday called for calm and pledged to take swift action against any street violence or other illegal activities, irrespective of offenders' backgrounds or views.
The vow came as some protesters engaged in violent confrontations last weekend, resulting in eight injuries.
The expected rally on Saturday-Clean Hong Kong Day-organized by Legislator Junius Ho Kwan-yiu, is in an attempt to remove memos and notes containing political opinions on over 70"Lennon Walls" in places such as underpasses and footbridges across the city.
The police will deploy manpower across various districts on Saturday in an attempt to prevent conflicts from escalating out of control, said Fang Chi-kin, superintendent of the Hong Kong Police operations wing, on Friday.
The Lennon Walls, more often than not, have been sites of violence over the past three months, Fang said. Since June, police launched 40 criminal investigations into physical confrontations taking place near the walls, and arrested 57 people on charges including assault and possession of offensive weapons.
While police have always respected the citizens' freedom of speech rights, they have to be carried out in a peaceful and orderly manner and no one should resort to violence, he added.
Later on Friday, a top Hong Kong police officer said that law enforcement officers were getting more and more united and determined as the protests and escalated violence mounted.
The top officer made the remarks during a closed-door media session at police headquarters in Wan Chai district on condition of anonymity. The city has endured 15 consecutive weeks of street protests which went from peaceful rallies to illegal protests with masked radicals resorting to escalating violence and extreme acts of vandalism.
The police unity and determination could be witnessed through resignation rates. He said the nonscheduled resignation rate for police so far this year is around 1.1 percent. The rate in 2018 was around 1.6 percent.
"We, the police force, won't be intimidated by any acts of violence," he said.
When asked about accusations of police officers allegedly using excessive force, the top official said it is fair to say Hong Kong's police force is one of the most restrained in the world, but some media just show a partial picture.
He said he went to New York in June and met with police officers. When he played video clips showing radicals' vandalism and then showed them what the media was saying, they were shocked at the huge differences between what's been written and what's been documented on camera.
He called for media to give accurate, fair and balanced media coverage on police actions.
It has been more than 100 days since the violent protests started in June. So far, 1,474 people have been arrested at illegal protests and 207 have since been charged.
He said he agreed in theory that if there were fast-track of court procedures, it would change the current situation as people, especially the young, would know that there is a price to pay for illegal acts.