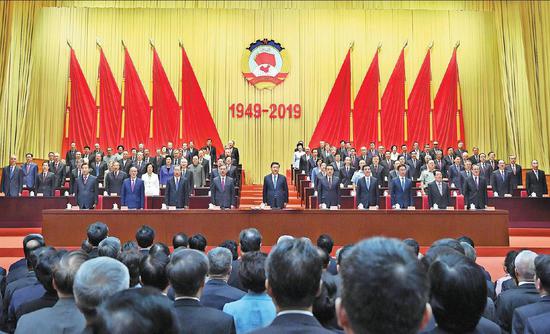 President Xi Jinping, also general secretary of the CPC Central Committee, attends a Friday event marking the 70th anniversary of the CPPCC in Beijing. (RAO AIMIN / XINHUA)
Call made on eve of 70th anniversary of CPPCC, key part of socialist democracy
President Xi Jinping on Friday called on political advisers to improve their work in political consultation, democratic oversight and participation in and deliberation of State affairs to pool wisdom and strength for national rejuvenation.
Xi, also general secretary of the Communist Party of China Central Committee and chairman of the Central Military Commission, made the remark at a gathering commemorating the 70th anniversary of the Chinese People's Political Consultative Conference, in Beijing.
The CPPCC, a distinctively Chinese political institution, is a major channel for socialist consultative democracy as a part of the system of multiparty cooperation and political consultation led by the CPC — a new type of system for political parties in China.
Describing the CPPCC as a great creation in the nation's political system, Xi commended its contributions to the founding of the People's Republic of China, the socialist revolution, construction and reform over the past 70 years.
The CPPCC has promoted multiparty cooperation and practiced democracy through consultations, fully displaying the advantages and strength of China's socialist democracy, Xi said.
Saying that socialism with Chinese characteristics has entered a new era, Xi asked CPPCC committees to play their role of specialist consultative bodies and adhere to and improve the nation's new-type system of political parties.
He underlined the need for CPPCC committees to focus on the Party and the country's key tasks, solicit a wide range of opinions, pool the wisdom of the people, increase consensus and build up synergy.
Xi stressed that the Party's policies on ethnic groups and religions should be fully implemented. He also said CPPCC members of the Hong Kong and Macao special administrative regions should be guided to support the SAR governments and their chief executives to exercise administration based on law and strengthen the forces that love the motherland, Hong Kong and Macao.
Exchanges and interactions between the parties, social societies and people from various circles from Taiwan island and those of the mainland should be expanded to help intensify integrated development across the Taiwan Straits, Xi said.
He called for absorbing more compatriots from abroad to participate in CPPCC activities and actively engaging in exchanges with the rest of the world to inject positive energy into the effort to build a community with a shared future for mankind.
On Sept 21, 1949, more than 600 representatives from across the country attended the first plenary session of the CPPCC, starting the consultative democracy led by the CPC.
Over decades, the CPPCC has improved the content and forms of consultation and deliberation to build consensus and promote unity, strengthened democratic oversight and focused on the implementation of major principles, policies, decisions and plans of the Party and the State.