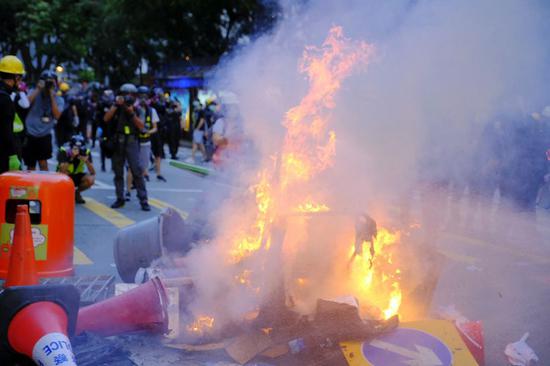 Rioters set fire in Wan Chai of Hong Kong, south China, Sept. 15, 2019. (Xinhua)
The Hong Kong Special Administrative Region (HKSAR) government severely condemned radical protesters' violent acts on Hong Kong Island Sunday, which jeopardized the safety of members of the public and seriously undermined social order, a spokesman of the HKSAR government said late Sunday.
Despite the issuance of a notice of objection by the police, protesters on Sunday took part in unlawful processions and assemblies in the vicinity of Causeway Bay, Wan Chai and Central district, and set up barricades in several thoroughfares, seriously affecting the traffic on Hong Kong Island, the spokesman said.
Some radical protesters hurled multiple petrol bombs and bricks at the HKSAR government headquarters offices, set fires in different parts of Admiralty and Wan Chai, and wantonly vandalized mass transit railway (MTR) stations.
Some offenders burned a Chinese national flag outside a hotel in Wan Chai, challenging the national authority.
The HKSAR government severely condemned the violent acts which totally disregarded law and order, the spokesman said.
In the face of the violent confrontations of the radical protesters, the police conducted dispersal operations and made arrests in a resolute manner, protecting the safety of members of the public and restoring public order, the spokesman added.
The spokesman reiterated that violence is definitely not a solution to problems but would only harm the entire community.
To find a way out of the current difficult situation, the HKSAR government has shown sincerity and proposed to set up a platform for dialogue to communicate with members of the public, resolving together the deep-seated problems in society, the spokesman said.