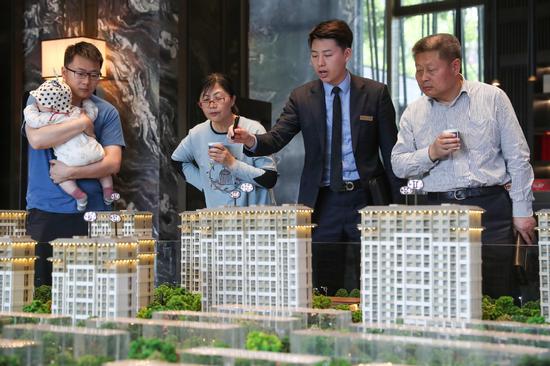 Potential homebuyers examine property models at a sales site in Shanghai. [Photo provided to China Daily]
China will link the personal mortgage loan rate to a new lending rate reference, starting from Oct 8, to make it more flexible and market-driven, the central bank said in a statement on Sunday.
For purchasing the first house, individual borrowers of new mortgage loan will pay an interest rate of no less than 4.85 percent - it is the five-year loan prime rate, or LPR, the new reference of bank lending reported by the People's Bank of China, the central bank, on Aug 20.
Buyers of second house should pay an interest rate that is 0.6 percentage point above the LPR, which will be 5.45 percent, said the statement.
The existing mortgage loans, with the contracts signed earlier than Oct 8, will keep the old interest rates unchanged, it added.
"That is almost at the same level of the current lowest personal mortgage loan rate," a spokesman with the PBOC said. "Compare with the situation before the reform, the interest expense will be basically unchanged for borrowers."
Liu Guoqiang, a vice-governor of the PBOC, said at a press conference last week that even under the new interest rate scheme, the rate for mortgage loans will not be lower, as the government will not ease the real estate control policy nor "use real estate as a tool to stimulate short-term economic growth".
The new method to set mortgage loan rate is part of the market-driven reform of the country's overall interest rate system, which made a remarkable progress on Aug 17. It decided to use the LPR, the price of loans banks offer to their best clients, as a new reference for bank loans, instead of the existing one-year benchmark lending rate.
The new LPR was reported for the first time on Tuesday at 4.25 percent for one-year loans, lower than the 4.35 percent one-year benchmark lending rate which has been unchanged since August 2015. The LPR for five-year loans was at 4.85 percent, according to the National Interbank Funding Center.