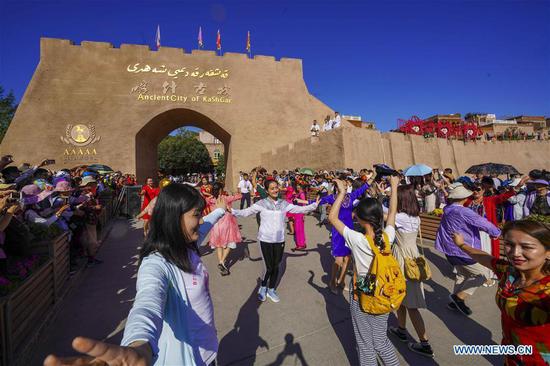 Tourists dance with staff members in the ancient city of Kashgar, northwest China's Xinjiang Uygur Autonomous Region, July 8, 2019. In the first half of 2019, the ancient city of Kashgar received over 310,000 tourists. (Xinhua/Zhao Ge)
Special: 70th birthday of PRChina
China's Xinjiang is in urgent need of education and training, for many people in the region have been influenced and controlled by religious extremism, according to a white paper issued Friday by the State Council Information Office.
Terrorism and extremism have a long history in Xinjiang. In an attempt to split China, separatist and religious extremist forces advocated religious extremism and carried out a series of terrorist activities. For years, religious extremism continued to make inroads into Xinjiang, resulting in incidents of terrorism, said the white paper titled Vocational Education and Training in Xinjiang.
From 1990 to the end of 2016, separatists, religious extremists and terrorists plotted and carried out several thousand acts of terrorism such as bombings, assassinations, poisoning, arson, assaults, and riots in Xinjiang. Many innocent people were killed and several hundred police officers died in the line of duty. The property losses incurred were enormous.
Normal religious activities in Xinjiang have been seriously disrupted, and upstanding religious individuals have been ostracized, persecuted, or killed. Social and economic development in the region has also suffered as a result, it said.
Influenced and controlled by religious extremism, many people's minds have been poisoned to the extent of losing reason and the ability to think sensibly about their lives and the law. Without necessary intervention measures, it will not be possible for them to cast off the shackles of religious extremism, get back to normal life, and improve their prospects for a better future, the white paper said.
Faced with this severe and complex problem, Xinjiang has upheld the principle of addressing both the symptoms and root causes in its fight against terrorism and extremism, by striking hard at serious terrorist crimes, and by educating and rehabilitating people influenced by religious extremism and involved in minor violations of the law, it said.
In accordance with the law, Xinjiang has established vocational education and training centers to offer systematic education and training in response to a set of urgent needs: to curb frequent terrorist incidents, to eradicate the breeding ground for religious extremism, to help trainees acquire a better education and vocational skills, find employment, and increase their incomes, and most of all, to safeguard social stability and long-term peace in Xinjiang, the white paper stated.