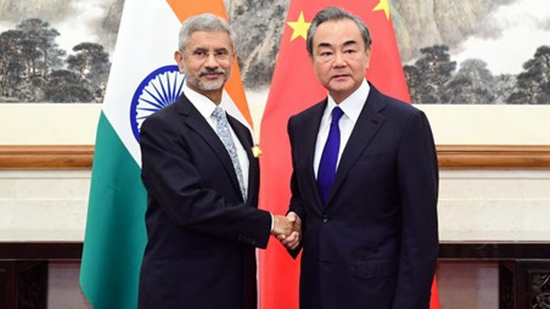 Chinese State Councilor and Foreign Minister Wang Yi (R) meets with visiting Indian External Affairs Minister Subrahmanyam Jaishankar in Beijing, August 12, 2019. /Photo via fmprc.gov.cn
Following the situation in Kashmir and India-Pakistan conflict closely, China opposes any unilateral action that complicates the situation, Chinese State Councilor and Foreign Minister Wang Yi said on Monday.
While meeting with his Indian counterpart Subrahmanyam Jaishankar in Beijing, Wang called on India and Pakistan to resolve their disputes by peaceful means, and maintain overall peace and stability in the region.
Wang pointed out that India's measures challenge China's sovereignty, violate the joint agreement that maintain peace and tranquility in China-India border areas.
"China voices serious concern over the issue," Wang added.
The Indian government announced last Monday that it was giving the status of "Union Territory" to Ladakh, which has included parts of Chinese territory at the two nations' western border.
India's move will not affect China, nor change the fact it is China that exercises sovereignty and jurisdiction over related territories, Wang emphasized.
He also hoped the Indian side can contribute more to promote mutual trust, and keep the bilateral relations from being adversely affected by differences.
Jaishankar explained India's stance that his country will not make any new sovereignty claims, will not change the India-Pakistan ceasefire line, as well as the line of actual control at India-China border.
India is willing to improve relations with Pakistan, exercise great restraint, and maintain peace and stability in the region, Jaishankar added.
Meanwhile, Jaishankar said his country hopes to settle through negotiation the relevant disputes between India and China over the boundary issue, adhering to the consensus reached by the two sides on maintaining peace in the border areas.