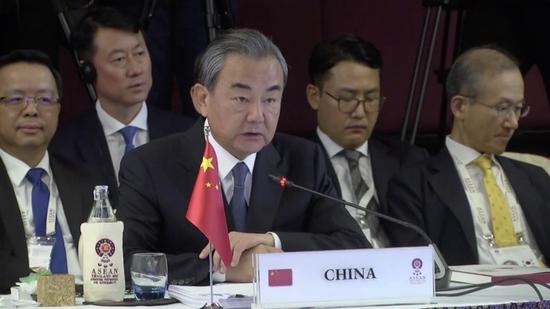 Chinese State Councilor and Foreign Minister Wang Yi attends the ASEAN Foreign Ministers' Meeting in Bangkok, Thailand, August 2, 2019. (Photo/CGTN)
Chinese State Councilor and Foreign Minister Wang Yi called on unity and cooperation among countries in the Southeast and East Asian region, as Japan announced to remove South Korea from its export "white list."
Wang said the Southeast Asian region has become one of the most dynamic markets in the world, and the ASEAN Plus Three (APT) – referring to a framework of the Association of Southeast Asian Nations Plus China, Japan and South Korea – is the key to regional economic growth.
Countries within the framework should prioritize cooperation and properly settle disputes through dialogue and negotiations, Wang said at the APT ministerial-level meeting in Thailand on Friday.
A united APT will contribute to East Asia's stability and prosperity, and countries should work together to defend multilateralism and free trade and deepen non-governmental cooperation, he added.
Earlier, the Japanese government voted to remove South Korea from a so-called white list of favored export partners. South Korea, the only Asian nation on the list, is now the first country ever to be dropped from Tokyo's list of nations granted minimal constraints on exports of products that could be diverted to military use.
Speaking after the Chinese foreign minister, South Korean Foreign Minister Kang Kyung-wha said Seoul is "gravely concerned" over Japan's decision to impose additional export curbs against South Korea.
Kang said that the fundamental principle of free trade was challenged and called on Japan to uphold a free, fair and non-discriminatory trade policy.
Advancing partnership and expanding cooperation are important as the global economy faces strong headwinds, she said.
Countries should choose to enlarge the share of the pie by upholding free trade, she added.
However, Japanese Foreign Minister Taro Kono defended Friday morning's additional restrictions, saying the exports control is based on the security perspective and it's Japan's responsibility within the international community.
Kono said Japan is fully compatible with the rules of the WTO and South Korea will continue to enjoy a preferred status or equal status with Japan's ASEAN trading partners.
Understanding 10+3
The ASEAN plus China, Japan, South Korea cooperation mechanism was created in the late 1990s when ASEAN members decided to enhance cooperation with other major economies of Asia against the backdrop of economic globalization.
The first meeting was held in 1997 in Malaysia.
The framework, initially focused on economic cooperation, has expanded to the fields of politics, security and culture. These days, it tends to focus more on strengthening regional connectivity.
State leaders, ministers and other high-ranking officials from 10 ASEAN countries, China, Japan and South Korea meet annually to discuss cooperation and major international and regional issues.