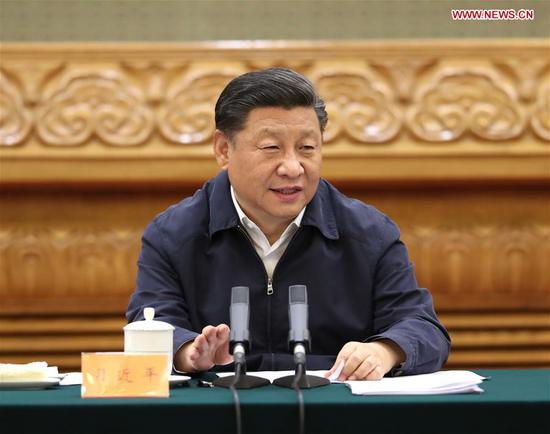 General Secretary of the Communist Party of China Central Committee Xi Jinping, also Chinese president and chairman of the Central Military Commission, delivers a speech while attending a meeting reviewing the reform of Party and state institutions in Beijing, capital of China, July 5, 2019. (Xinhua/Huang Jingwen)
Since China's latest reform of Party and state institutions started in early 2018, the country has seen a systematic improvement of the Party's leadership, the government's administrative capacity, the armed forces' combat capability and mass organizations' vitality.
Xi Jinping, general secretary of the Communist Party of China (CPC) Central Committee, on Friday attended a meeting reviewing the reform of Party and state institutions.
Xi, also Chinese president and chairman of the Central Military Commission, called for consolidating the achievements in the reform and modernizing China's system and capacity for governance at the meeting.
In the reform at the central level and on state organs, more than 80 departments underwent adjustment of their management, frameworks, duties and personnel, with more than 1.8 million people affected, according to official figures.
The CPC Central Committee had four coordinating organs removed while the State Council, China's cabinet, had two removed. A total of 21 ministerial departments were dissolved.
STREAMLINING GOVERNANCE
The functions and structures of the institutions were profoundly streamlined. The CPC Central Committee, the National People's Congress and the National Committee of the Chinese People's Political Consultative Conference optimized their layouts of internal and subordinate departments.
The State Council enhanced its role in economic adjustment, market regulation, social management, public service and environmental protection, with long-standing problems of power overlap and segmentation solved.
Reform on this scale required a meticulous plan and detailed maneuvers.
One of the most complicated cases of the reform was the forming of the Ministry of Emergency Management, which integrated functions of 13 departments. The new ministry was able to carry out its responsibilities round the clock in response to emergencies even before its formal inauguration.
To address long-term problems such as the absence of the proprietor of natural resources and overlapping responsibilities, the Ministry of Natural Resources was established, absorbing the functions of eight departments.
Five administrative law enforcement forces, introduced in the reform, integrated power from more than 30 law enforcement fields, involving more than 1 million law enforcement personnel. They helped settle the problems of repetitive law enforcement and reduce inconvenience caused by law enforcement to the public.
More than 160 laws and 230 administrative regulations were revised to facilitate the reform.