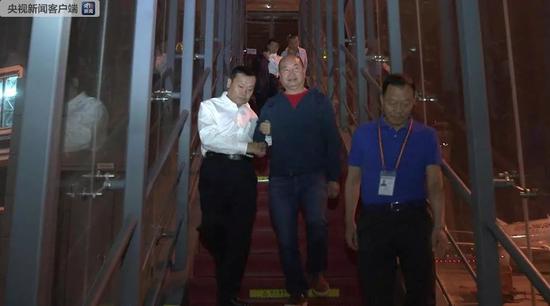 Xiao Jianming turned himself in, May 29, 2019. (CCTV Photo)
Xiao Jianming, former chairman of a state-owned tin mining company, turned himself in on Wednesday, the Communist Party of China (CPC) Central Commission for Discipline Inspection (CCDI) said in a statement on Thursday.
Xiao, 71, had been the chairman of Yunnan Tin Group Company Ltd. and also the deputy director of the Financial and Economic Affairs Committee of the Yunnan Provincial People's Congress before he fled the country in December 2012. He was investigated for taking bribes in July 2014.
In April 2015, the CCDI published a list of 100 "most-wanted" overseas fugitives suspected of corruption and violating the Party discipline.
In the statement, the CCDI said that Xiao is the 58th suspect that had returned to China, urging other fugitives to turn themselves in.
It also stressed that the CPC is determined to root out corruption and vows to achieve an overwhelming victory in its anti-corruption campaign.